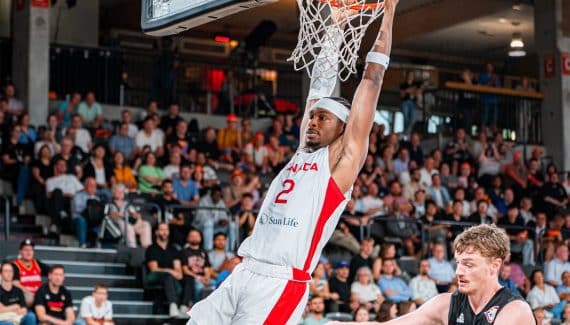 The Canadian players would probably have preferred to win by this score against Germany, a much better team which justly beat Canada on Wednesday, but a victory of 31 points (107-76) is always good to take in preparation for a World Cup, even against modest New Zealand.
Against the "Tall Blacks" in Hamburg, Jordi Fernandez's men actually rolled out their basketball, securing a lead of 29 points at halftime, then 23 points at the end of the third quarter before impose 31 points. A controlled match for the Canadian formation, which continues to build.
" We played with the right intensity and the right mentality », appreciated the coach of Canada. " Of course, there are still areas of work, especially the three-point defense. But overall, I'm happy. Offensively, it was fluid, we executed well. We must continue to progress. »
On the individual performance side, the most important was that of Shai Gilgeous-Alexanderwho had fun with the New Zealand defense by compiling 26 points (9/12) and 3 assists, not to mention 6 interceptions.
" He set the tone for us. And not only in attack, on both sides ", congratulated Jordi Fernandez about the good performance of "SGA". " He showed how important he is to this group. »