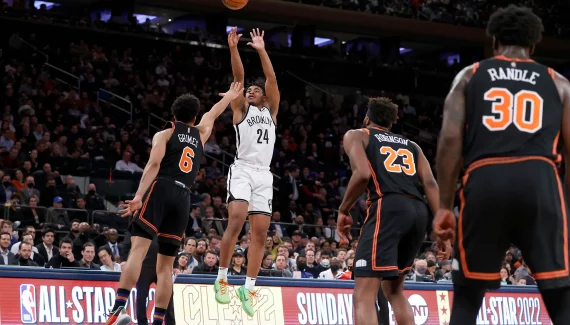 Yet deprived of Kevin Durant and Kyrie Irving, and of course Ben Simmons, the Nets delivered a heroic match last night on the Knicks' Madison Square Garden floor. Led by 28 points during the first half, and 18 points at the start of the fourth quarter, Steve Nash's men reversed the trend in the "money-time", for a perfect "hold-up" against their neighbours, who continue to sink.
In great difficulty during the first three quarters (5 points at 2/11 on shots), Cameron Thomas was the strong man of his training during the last act. In the last 12 minutes of the game, he scored 16 points, including the winning shot, which put the Nets +6 with 7 seconds left in the game, a step-back full of composure on the muzzle of Quentin Grimes, yet a good defender on the man.
In the absence of the two stars of the club, the offensive responsibilities fall to him at the end of the game, and Steve Nash does not see any inconvenience.
" We know what Cam is capable of. We saw it during the Summer League, we saw it several times this season" explained the Nets coach. " He loves these moments. There is a gene that must exist for these things, and he has it. He believes in himself, and I believe he lives for those moments. It's something in him, it's rare. It's an innate talent."
" There were 10 seconds left on the 24 second clock, and I saw the coach telling everyone to step aside, so I knew it was my time, it was 1-on-1 " delivered the hero of the evening afterwards. " I'm very happy to have scored because I was struggling with my shot, I was 1/10 to start, I did not attract any fouls, so I continued to fight. I'm glad it worked out in our favor."
After having gone through a period of great turbulence, marked by 11 consecutive defeats, the Nets have just chained two victories before the "break" of the All-Star weekend. Ideal for boosting confidence before the home stretch of the season… as well as the return of Kevin Durant and the debut of Ben Simmons.
Shots
Bounces
Players
GM
Minimum
Shots
3 points
LF
Off
Def
Early
pd
bp
Int
CT
party
Points
Kevin Durant
36
36.5
52.0
37.2
89.4
0.6
6.9
7.4
5.8
3.0
0.8
0.9
1.9
29.2
Kyrie Irving
14
36.2
45.2
36.8
92.5
0.6
4.2
4.8
5.4
2.4
1.1
0.6
2.4
24.1
Seth Curry
1
32.1
55.6
37.5
0.0
0.0
7.0
7.0
5.0
4.0
0.0
0.0
3.0
23.0
James Harden
44
37.0
41.4
33.2
86.9
1.0
7.0
8.0
10.2
4.8
1.3
0.7
2.4
22.5
Lamarcus Aldridge
37
22.8
56.0
31.6
85.9
1.5
4.2
5.7
0.8
1.0
0.4
1.1
1.8
13.6
Patty Mills
56
31.0
42.7
41.8
88.4
0.2
2.0
2.2
2.6
1.0
0.7
0.3
1.5
13.3
Joe Harris
14
29.9
45.2
46.6
83.3
0.4
3.6
4.0
1.0
1.1
0.5
0.1
2.2
11.3
Andre Drummond
1
24.1
57.1
0.0
75.0
3.0
6.0
9.0
4.0
2.0
2.0
1.0
5.0
11.0
cam thomas
46
19.1
44.8
27.2
81.7
0.2
2.3
2.5
1.3
0.8
0.5
0.2
1.0
9.3
Nicholas Claxton
25
21.2
63.9
0.0
56.6
2.2
3.4
5.6
0.8
0.7
0.5
1.1
2.2
9.1
Kessler Edwards
26
25.5
41.0
34.5
80.0
1.0
3.4
4.4
0.6
1.1
0.8
0.7
2.1
6.9
Blake Griffin
46
18.5
41.6
23.0
73.5
1.2
3.3
4.5
2.1
0.5
0.5
0.3
1.8
6.8
Bruce Brown, Jr.
48
20.9
48.9
33.3
72.9
1.2
3.1
4.3
1.3
0.7
1.0
0.6
2.3
6.3
Day'ron Sharpe
29
12.8
57.1
25.0
56.8
2.7
2.6
5.2
0.5
1.0
0.3
0.5
2.1
6.3
Deandre' Bembry
48
19.8
56.8
41.7
60.0
0.8
2.4
3.2
1.2
0.6
1.0
0.5
2.2
5.8
James Johnson
42
19.0
48.8
26.9
44.4
1.0
2.5
3.5
1.9
0.7
0.5
0.4
2.4
5.7
David Duke
18
16.2
37.2
28.1
84.2
1.6
1.8
3.4
0.8
0.4
0.7
0.3
1.7
5.3
Paul Millsap
24
11.2
37.6
22.2
70.6
1.2
2.5
3.7
1.0
0.5
0.2
0.5
2.0
3.4
Jevon Carter
44
11.9
32.5
33.6
75.0
0.2
1.2
1.4
1.0
0.5
0.3
0.2
1.0
3.4
Langston Galloway
4
14.6
38.5
25.0
0.0
0.2
1.8
2.0
1.2
1.2
0.0
0.0
1.2
3.0
James Ennis
2
6.8
28.6
50.0
0.0
1.0
1.5
2.5
0.0
0.0
0.5
0.5
0.0
2.5
Shaquille Harrison
2
11.3
33.3
0.0
0.0
0.5
1.5
2.0
1.5
1.0
0.5
0.5
1.5
2.0
Wenyen Gabriel
1
1.3
0.0
0.0
0.0
0.0
1.0
1.0
0.0
0.0
0.0
0.0
0.0
0.0