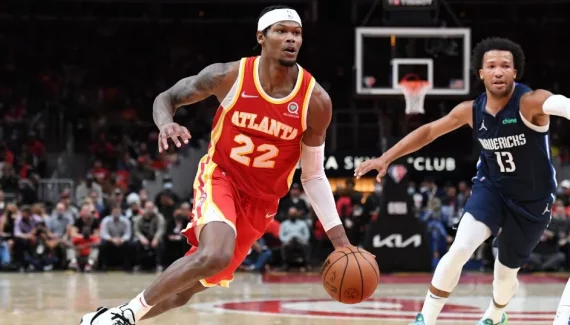 While the Hawks' external rotation has been orphaned for several weeks by Bogdan Bogdanovic, John Collins, Kevin Huerter, Timothé Luwawu-Cabarrot, Danilo Gallinari or Solomon Hill, the rare "survivors" must raise their level of play to fill this slaughter.
This is the case with Cam Reddish, the club's only winger who has so far escaped isolation, and the Hawks' 3rd leading scorer this season. Tenured for six games, the former Blue Devil of Duke recorded an average of 18.5 points over this period, including a peak of 34 points against Orlando for his first start on December 22. Not always put in the best possible conditions, and not always constant either, since his arrival in Georgia three years ago, the winger appreciates this first real challenge in the NBA.
" Of course, I like it. I think i'm progressing " he delivered to the Athletic. " The first few games, I was a little rusty. I have the impression that I am starting to find the rhythm with this role, I have more the ball in the hands. And I have fun. I still have to get used to playing all these possessions. Some of my shots are good, but too short because I haven't played such a big role for some time. I get used to it again. "
Globally confined to "catch-and-shoot" since the start of his NBA career, Cam Reddish can play as he likes to do, with the ball in his hands, for the first time when he is already in his third season.
An observation which can be explained by the density of the Hawks' external rotation, as his coach Nate McMillan did not fail to remind him when the executives will return.
" With the return of some guys, everyone has to make sacrifices. »Warned the coach. " Everyone's opportunities will diminish. It's normal. With all the injuries we suffered, other guys seized opportunities, they played more minutes, touched the ball more. These opportunities, these minutes will decrease because we will recover other players. "
Evasive on the subject, the player is content to seize the present moment without thinking of the rest: " I control what I can control", He concluded soberly.
Shots
Rebounds
Players
MJ
Min
Shots
3pts
LF
Off
Def
Early
Pd
Bp
Int
Ct
Fte
Pts
Trae young
32
34.5
45.2
37.1
89.5
0.8
3.1
3.9
9.4
4.0
1.0
0.1
1.8
27.5
John collins
32
32.6
54.9
42.7
79.3
1.8
6.1
7.9
2.1
1.2
0.7
1.2
3.0
17.6
Cam Reddish
31
24.0
40.9
38.6
89.7
0.6
1.9
2.6
1.1
1.4
1.1
0.3
1.4
12.5
Bogdan Bogdanovic
24
28.8
41.3
36.2
75.9
0.3
3.3
3.6
2.5
0.9
0.7
0.2
1.9
11.7
Clint Capela
33
29.9
56.1
0.0
49.4
4.3
8.9
13.2
1.5
0.6
0.8
1.6
2.4
11.6
Cameron oliver
2
21.6
66.7
33.3
66.7
1.0
2.0
3.0
1.5
0.0
0.5
0.5
2.5
11.5
De'andre Hunter
11
27.8
45.0
39.5
40.0
0.4
2.4
2.7
0.6
1.3
0.6
0.3
2.9
10.8
Kevin huerter
28
27.6
46.2
38.0
85.7
0.4
2.9
3.3
2.7
1.3
0.4
0.2
1.9
10.5
Onyeka Okongwu
3
22.2
70.6
0.0
100.0
2.0
3.7
5.7
1.3
1.3
0.7
2.0
4.0
10.3
Chaundee Brown
3
27.7
36.0
40.0
83.3
0.3
4.3
4.7
1.3
0.0
0.7
0.0
2.3
9.7
Danilo Gallinari
26
21.8
41.5
41.8
92.3
0.5
3.4
4.0
1.3
0.5
0.5
0.2
1.4
9.6
Wesley iwundu
3
27.4
44.4
60.0
75.0
1.0
3.3
4.3
0.0
0.3
0.3
0.0
2.7
7.3
Lou williams
25
14.3
38.3
32.0
84.6
0.3
1.3
1.6
1.4
0.9
0.6
0.1
1.0
6.9
Malcolm hill
3
15.3
62.5
60.0
100.0
0.7
1.3
2.0
0.3
0.0
1.3
0.3
2.3
5.7
Skylar mays
13
11.9
56.0
40.0
100.0
0.4
1.2
1.6
0.8
0.4
0.4
0.0
0.3
5.5
Timothe Luwawu-cabarrot
22
12.6
36.7
36.5
90.9
0.2
1.2
1.4
0.6
0.3
0.3
0.1
1.3
4.0
Delon wright
30
16.5
42.7
45.5
78.9
0.8
2.1
2.9
2.3
0.7
0.7
0.2
0.6
3.7
Gorgui Dieng
28
9.8
46.1
40.0
76.2
0.9
2.4
3.3
0.9
0.6
0.3
0.4
1.3
3.6
Jalen johnson
10
5.0
47.1
33.3
66.7
0.0
1.3
1.3
0.1
0.2
0.0
0.0
0.3
2.2
Lance Stephenson
6
11.6
38.5
0.0
50.0
0.2
2.3
2.5
1.8
0.7
0.0
0.0
1.3
1.8
Solomon hill
13
10.7
15.0
15.4
0.0
0.5
1.3
1.8
0.9
0.1
0.3
0.2
1.2
0.6
Sharife Cooper
8
3.8
16.7
0.0
0.0
0.0
0.4
0.4
0.6
0.5
0.0
0.0
0.1
0.5
Cat barber
3
4.3
0.0
0.0
0.0
0.3
0.7
1.0
1.0
0.3
0.0
0.0
0.3
0.0