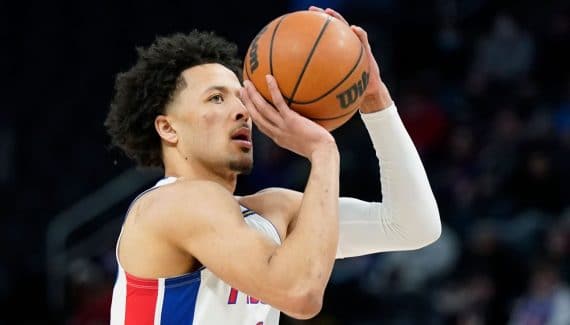 In the space of a week, the Pistons have offered themselves the scalp of the Bucks and Jazz! Victorious in four of their last six games, the Michigan players are doing better since the transition to the new year and, last night, their success against Utah was snatched after recovering from a deficit of… 22 points!
A tremendous turnaround, led by Cade Cunningham, with his 29 points and 8 assists, 10/17 on shots, 5/9 on 3-points and 4/4 on throws, in 38 minutes! Planting especially 18 points in the only third quarter, is the record of a rookie over 12 minutes, this season, tied with Brandon Boston Jr. (Clippers).
And, while the first choice of the last Draft came out of a particularly complicated first half: only 5 points, 2/8 on shots and 1/4 on 3-points.
" You owe it to yourself to have a short memory in this kind of situation ", explained Rex Kalamian, interim coach of Detroit, about the first half of his leader. " You have to be able to say to yourself, 'Okay, I'm 0/4 on shots, but if I hit my next four shots, I'll be 4/8'. It is this level of confidence that you must have and Cade [Cunningham] has it. […] I am really proud of his game. "
The defense of Jazz short of solutions
When he returned from the locker room, Cade Cunningham made the powder speak for himself in attack. In passing, for a Saddiq Bey also author of 29 points, but especially in scoring. Because it is all the offensive panoply of the 20-year-old player who has gone through it: 3-points out of the screen, 3-points in "catch-and-shoot", 3-points in exit from dribbling, penetrations, throws -francs and even a little play at mid-distance!
" I wouldn't say that something has unlocked in me", Said the principal concerned, concerning this heat stroke. " Simply, I tried to keep the same state of mind [qu'avant la pause]. In the first half, I missed some open shots, but I didn't lose confidence because they were good shots. So in the second half, I wanted to be more energetic in my game and I'm happy with what it turned out. "
Confidence by his coach Rex Kalamian, who made sure he had more the ball in his hands after the break, Cade Cunningham bent (almost on his own) the defense of the Jazz, much more permissive without Rudy Gobert . And who conceded no less than… 78 points in the second half!
If he obviously wanted to thank his teammates for his performance, they who did not stop encouraging him and giving him the blows, the former resident of Oklahoma State has above all shown that he could become a real problem for the opposing defenses, once in rhythm. Both in scoring and in passing.
Regain rhythm and gain momentum
The icing on the cake: this victory for the Pistons allowed Rex Kalamian, the usual assistant to Dwane Casey (entered in the health protocol of the league), to leave with the ball of the match. A small gift which symbolizes his first success as a "head coach", even if it will appear in Dwane Casey's balance sheet.
" I'm super happy for him Cade Cunningham concluded on this subject. " I'm proud we were able to do this for him. He is important for this team, he gives us so much in terms of energy. So it means a lot to us, to have been able to allow him to obtain his first victory. "
Author of sawtooth performances since his debut in the league, especially in shootings, then slowed down by the Covid-19, the "combo guard" of Detroit will now try to capitalize on his new career points record to allow to his team to compete with Chicago, Toronto, Phoenix or Golden State.
In other words, the next four opponents of the Michigan franchise, in the heart of a tough schedule and which rose to 14th place in the Eastern Conference (9 wins – 30 losses) …
Cade cunningham
Percentage
Rebounds
Season
Team
MJ
Min
Shots
3pts
LF
Off
Def
Early
Pd
Fte
Int
Bp
Ct
Pts
2021-22
DET
29
32
38.1
31.0
83.6
0.9
4.9
5.9
5.3
2.9
1.3
3.7
0.6
15.2
Total
29
32
38.1
31.0
83.6
0.9
4.9
5.9
5.3
2.9
1.3
3.7
0.6
15.2