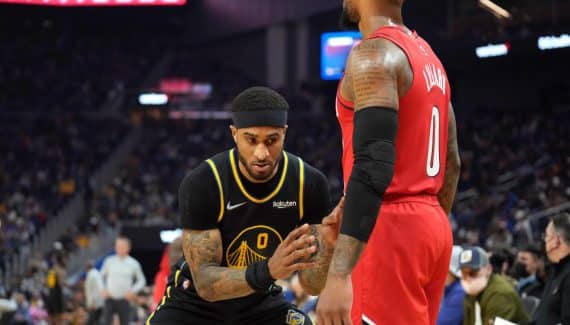 At the start of the transfer window, we thought that Gary Payton II was logically going to stay with the Warriors. It was Golden State that gave the son of the former Sonics legend his chance and at Golden State, he had just won the title against Boston.
So why go to Portland like he did? First and foremost for financial reasons.
"I had to take the money", he concedes to the George Karl podcast. " I had to do it. It didn't work with the Warriors. I would have loved to come back, but it was not possible. It's a story of timing and business. So I had to take this amount. "
The Warriors were in the red financially and could only offer 6.4 million dollars per season to their rear. Portland had better, with 8 million per year and Gary Payton II therefore signed with the Blazers.
And if GPII played at Oregon State in college, he assumes that he did not choose Portland for the emotional side. But good for the pay.
"I love Oregon. Portland is great. I did two years at university. But I intended to take the money, regardless of the franchise in question" he answers in a very honest way.
Gary Payton II
Percentage
Bounces
Season
Crew
GM
Minimum
Shots
3 points
LF
Off
Def
Early
pd
party
Int
bp
CT
Points
2016-17
MIL
6
17
36.4
11.1
60.0
0.0
2.0
2.0
2.2
1.5
0.5
1.7
0.7
3.3
2017-18 *
All Teams
23
10
40.5
24.0
33.3
0.6
1.4
1.9
0.9
1.3
0.3
0.3
0.1
3.0
2017-18 *
MIL
12
9
39.4
16.7
66.7
0.3
1.1
1.4
0.8
1.4
0.3
0.3
0.1
2.5
2017-18 *
ALL
11
11
41.5
30.8
16.7
0.8
1.6
2.5
1.1
1.2
0.4
0.4
0.2
3.6
2018-19
WAS
3
5
62.5
50.0
0.0
0.3
0.3
0.7
1.3
0.7
1.0
0.3
0.3
3.7
2019-20
WAS
29
15
41.4
28.3
50.0
0.9
1.9
2.8
1.7
1.9
1.1
0.7
0.2
3.9
2020-21
GOS
10
4
76.9
50.0
75.0
0.2
0.9
1.1
0.1
0.8
0.6
0.1
0.1
2.5
2021-22
GOS
71
18
61.6
35.8
60.3
1.0
2.5
3.5
0.9
1.9
1.4
0.6
0.3
7.1
Total
142
15
54.2
32.0
57.1
0.8
2.0
2.8
1.1
1.7
1.0
0.6
0.3
5.2