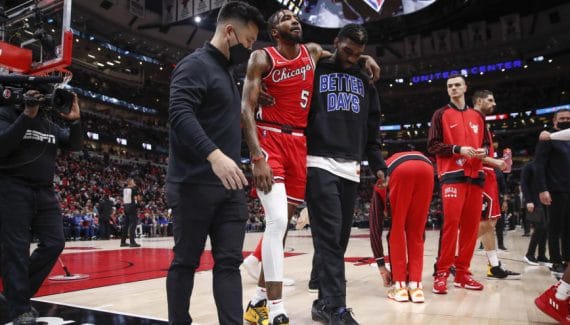 Already deprived of Patrick Williams, probably for the whole season, and of Jevonte Green for a few days, the Bulls have learned that they will be deprived of Derrick Jones Jr for several weeks.
The Bulls dunkeur avoids the worst since the ligaments are not affected, but the staff announced that he would be out for four to six weeks to treat his right knee. Which means he could be out until the All-Star Game.
Holder, Jones Jr. leaves a void on a position 4, and Wednesday, Billy Donovan tinkered a lot, and his Bulls were largely dominated by the Nets whose internal sector is not however the strong point.
Shots
Bounces
Players
GM
Minimum
Shots
3 points
LF
Off
Def
Early
pd
bp
Int
CT
party
Points
Demar Derozan
36
34.8
49.2
35.2
84.8
0.8
4.4
5.2
4.7
2.1
0.8
0.3
2.3
26.0
Zach Lavine
37
34.8
49.1
41.2
87.2
0.3
4.6
4.9
4.3
2.9
0.6
0.4
1.6
25.6
Nikola Vucevic
32
33.1
42.9
33.5
69.6
2.0
9.2
11.2
3.4
1.5
1.1
1.1
2.2
15.9
Lonzo-Ball
34
35.0
42.3
42.4
74.1
1.0
4.5
5.5
5.1
2.3
1.9
0.9
2.4
12.9
Coby White
21
24.8
46.1
38.8
78.9
0.1
2.4
2.5
2.3
1.2
0.5
0.2
2.2
11.7
Alex Caruso
26
28.0
44.8
36.4
83.0
1.0
2.8
3.7
4.0
1.5
2.0
0.3
2.5
8.4
patrick williams
5
24.9
56.5
50.0
100.0
0.2
2.0
2.2
0.6
0.4
0.6
0.4
1.8
6.6
Ayo Dosunmu
35
19.5
53.3
42.4
61.1
0.4
1.7
2.1
1.2
1.0
0.4
0.4
1.7
6.5
Derrick Jones
31
17.2
58.2
40.5
84.8
1.2
2.2
3.4
0.5
0.5
0.5
0.7
2.3
6.3
Javonte Green
29
22.2
49.6
36.4
80.0
1.5
2.7
4.2
1.0
0.6
0.8
0.4
2.1
5.8
Alfonzo McKinnie
8
14.7
42.1
42.9
0.0
1.1
0.9
2.0
0.4
0.8
0.2
0.2
1.8
5.1
Tyler Cook
9
10.4
65.0
0.0
87.5
0.7
1.7
2.3
0.3
0.4
0.3
0.1
1.6
4.4
Troy Brown, Jr.
28
14.7
43.1
34.0
75.0
0.5
2.4
2.9
1.2
0.3
0.7
0.1
0.9
4.4
Tony Bradley
27
12.5
58.2
0.0
76.9
1.5
3.0
4.5
0.5
0.6
0.2
0.7
1.3
3.8
Matt Thomas
16
9.5
37.3
37.5
70.0
0.1
0.8
0.9
0.4
0.1
0.2
0.1
0.3
3.6
Devon Dotson
10
7.8
52.6
28.6
62.5
0.1
0.8
0.9
1.3
0.5
0.1
0.0
0.9
2.7
Mac McClung
1
2.5
100.0
0.0
0.0
0.0
0.0
0.0
0.0
1.0
0.0
0.0
0.0
2.0
Alize Johnson
16
7.5
52.2
0.0
57.1
1.0
1.2
2.2
0.5
0.5
0.2
0.0
0.9
1.8
Marko Simonovic
7
3.6
11.1
0.0
87.5
0.4
0.4
0.9
0.0
0.3
0.0
0.1
0.7
1.3
Jordan Bell
1
2.0
0.0
0.0
0.0
1.0
0.0
1.0
0.0
0.0
1.0
0.0
2.0
0.0