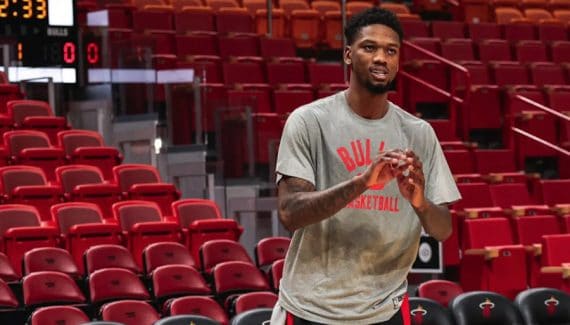 In the great NBA game of musical chairs, Alfonzo McKinnie started by winning, before finally losing. The winger had indeed arrived in Chicago in mid-December as a medical joker.
He convinced with good performances and the Bulls even offered him a contract until the end of the season. For this, the leaders had cut Alize Johnson.
A few weeks later, the roles are changed and it is Alonfzo McKinnie who is cut to make way for another player. In this case Tristan Thompson, who has just been released from his contract after his arrival in Indiana in the transfer around Domantas Sabonis and Tyrese Haliburton.
As the Bulls have regained strength over the weeks, after being hit hard by Covid-19 and injuries, the former Cleveland or Golden State had been missing from Billy Donovan's rotation for a month.
Thank you and best of luck, Alfonzo. pic.twitter.com/Q2YGtzgSDd

— Chicago Bulls (@chicagobulls) February 20, 2022
Alfonzo McKinnie
Percentage
Bounces
Season
Team
GM
Minimum
Shots
3 points
LF
Off
Def
Early
pd
party
Int
bp
CT
Points
2017-18
TOR
14
4
53.3
33.3
66.7
0.1
0.4
0.5
0.1
0.6
0.1
0.2
0.1
1.5
2018-19
GOS
72
14
48.7
35.6
56.2
1.1
2.3
3.4
0.4
1.9
0.3
0.4
0.2
4.7
2019-20
KEY
40
15
42.7
21.5
71.0
0.9
1.9
2.8
0.4
1.8
0.6
0.7
0.2
4.6
2020-21
ALL
39
7
51.6
41.0
55.6
0.6
0.8
1.4
0.2
0.7
0.2
0.1
0.0
3.1
2021-22
CHI
17
12
39.3
33.3
25.0
0.8
1.2
1.9
0.3
1.5
0.1
0.4
0.2
3.5
Total
182
12
46.7
32.6
58.3
0.9
1.7
2.5
0.3
1.5
0.3
0.4
0.2
4.0