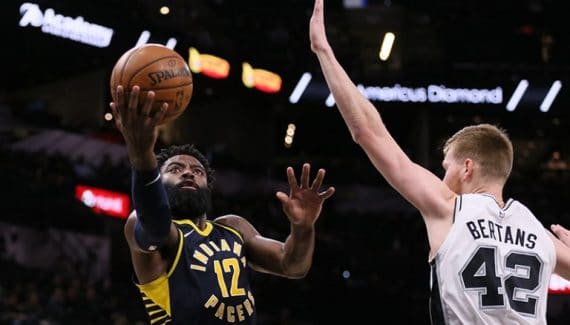 Will Tyreke Evans' efforts to return to the NBA after his two-year suspension pay off? The 32-year-old point guard/back has made it his mission to find a spot in the Big League, and after a first try at Milwaukee and then Golden State, he's back with the defending champion.
The Athletic Announces that the former Rookie of the Year signed with the Bucks' G-League team, the Wisconsin Herd, and that the possibility of promotion to the first team could not be ruled out, provided that Tyreke Evans gives satisfaction on the lower floor.
The ball is therefore once again in the player's court, especially since the Bucks have just lost DeAndre' Bembry until the end of the season, and they only have 14 players under contract.
Shots
Bounces
Players
GM
Minimum
Shots
3 points
LF
Off
Def
Early
pd
bp
Int
CT
party
Points
Giannis Antetokounmpo
57
32.8
54.9
30.6
71.9
2.0
9.5
11.5
5.9
3.2
1.1
1.4
3.2
29.7
Khris Middleton
56
32.4
44.6
37.1
89.0
0.7
4.7
5.3
5.4
2.8
1.1
0.2
2.4
20.2
Jrue Holiday
55
33.2
50.3
41.6
76.4
1.1
3.5
4.6
6.7
2.7
1.5
0.5
2.0
18.2
Bobby Portis
59
28.9
48.4
41.2
74.8
2.5
6.6
9.2
1.2
1.4
0.8
0.8
2.6
15.5
Grayson Allen
56
27.8
42.9
39.6
85.7
0.5
2.9
3.4
1.6
0.6
0.8
0.3
1.5
11.3
Pat Connaughton
54
27.0
46.7
40.7
81.1
0.7
3.7
4.4
1.2
0.6
0.9
0.3
1.4
10.1
Demarcus Cousins
17
16.9
46.6
27.1
81.6
1.4
4.4
5.8
1.1
0.9
0.9
0.5
2.7
9.1
Brook Lopez
1
28.2
33.3
50.0
0.0
2.0
3.0
5.0
0.0
0.0
1.0
3.0
3.0
8.0
Jordan Nwora
54
19.2
40.7
35.0
80.8
0.6
3.0
3.6
1.0
0.9
0.5
0.3
1.2
7.7
Serge Ibaka
11
19.6
52.5
38.1
70.0
1.4
4.5
5.9
0.5
0.6
0.3
0.5
2.3
7.2
Donte Divincenzo
17
20.1
33.1
28.4
85.2
1.1
2.5
3.5
1.7
1.6
0.6
0.2
1.5
7.2
george hill
41
25.5
43.6
31.6
96.0
0.9
2.4
3.2
2.5
0.9
0.8
0.1
1.4
7.0
Jevon Carter
8
18.1
43.8
56.5
100.0
0.4
1.2
1.6
1.8
0.2
0.4
0.2
1.2
5.6
Greg Monroe
5
13.9
50.0
0.0
55.6
2.2
2.0
4.2
0.4
0.6
0.6
0.4
1.4
5.4
Wesley Matthews
37
19.5
37.0
30.5
75.0
0.5
1.4
1.9
0.7
0.4
0.4
0.1
1.8
4.6
Rodney Hood
39
14.9
35.1
30.0
92.9
0.3
1.4
1.7
0.8
0.2
0.3
0.1
0.7
3.3
Sandro Mamukelashvili
36
9.1
47.7
42.9
78.6
0.8
1.0
1.8
0.4
0.3
0.2
0.2
0.6
3.1
Lindell Wigginton
15
8.1
46.9
46.7
55.6
0.1
1.0
1.1
0.5
0.5
0.2
0.1
0.6
3.1
Semi Ojeleye
20
15.4
25.7
26.8
76.9
1.2
1.6
2.9
0.2
0.2
0.2
0.2
1.3
2.9
justin robinson
17
11.6
31.6
27.0
100.0
0.1
0.6
0.8
1.2
0.6
0.5
0.0
1.0
2.8
Thanasis Antetokounmpo
40
9.4
50.0
9.1
61.5
0.9
1.2
2.1
0.5
0.5
0.3
0.2
1.6
2.8
Ja'vonte Smart
13
12.3
25.6
22.2
83.3
0.3
1.2
1.5
1.1
0.7
0.3
0.2
0.8
2.4
Georgios Kalaitzakis
9
5.3
45.5
50.0
44.4
0.4
0.4
0.9
0.0
0.4
0.1
0.1
0.9
1.8
Deandre' Bembry
8
9.6
37.5
0.0
0.0
0.5
0.9
1.4
0.8
0.1
0.2
0.0
1.1
0.8
Langston Galloway
3
16.2
7.7
0.0
0.0
0.7
2.7
3.3
2.3
0.3
0.3
0.0
0.7
0.7
Javin Delaurier
1
2.8
0.0
0.0
0.0
0.0
1.0
1.0
0.0
0.0
1.0
0.0
1.0
0.0
Luke Kornet
1
3.0
0.0
0.0
0.0
1.0
0.0
1.0
0.0
0.0
0.0
0.0
1.0
0.0
Jeff Dowtin
1
3.0
0.0
0.0
0.0
0.0
0.0
0.0
0.0
0.0
0.0
0.0
0.0
0.0