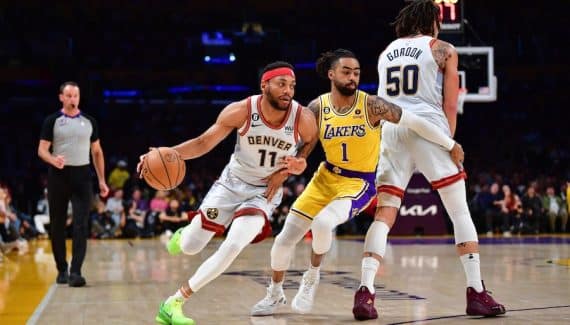 " We were surprised that he was available on the second day of 'free agency' remarked Mike Malone this week about Bruce Brown. Surprised, because despite his best year in career with the Nets, and qualities of "puncher" well known, the rear was not as coveted as one might have imagined.
" Rumors circulating last year during the 'free agency' said that I received many offers, which was not the case. Nobody really wanted me because they didn't know if I could lead or not. I kinda took it for myself », admits Nuggets replacement today.
This reluctance from other clubs was partly linked to his use with the Nets. The latter, who had no shortage of ball carriers at the time (Kyrie Irving, James Harden, Kevin Durant), went so far as to use him as a pivot, despite his small size (1m93). It is not easy in this context to show managerial qualities.
" I knew after the season the way I was playing in Brooklyn wouldn't match up, or people would be questioning how I was playing. So I told my agent I was going to get screwed this summer. I already knew. I was revengeful ", recalls the 26-year-old player.
This is where Denver came in and had no trouble convincing him. " The first time they told me I could come there and play point guard because Jamal (Murray) and Mike (Michael Porter Jr.) coming out of injury, that's exactly what I wanted to hear. So it was perfect. »
Third team usage rate
His desire to move to position 1 was all the more heard that in the middle of the season, the Nuggets transferred the designated substitute point guard, Bones Hyland, then recovered Reggie Jackson. The latter has gradually disappeared from the rotation of Mike Malone, and hardly plays during these playoffs.
This campaign, behind the team's two most important ball handlers, Nikola Jokic and Jamal Murray, Bruce Brown has the third highest usage rate and is the third player to touch the most balls.
The person concerned assures that slipping into this position, most of the time playing alongside Jamal Murray who plays 39 minutes per game, was " very simple. I think there was a click right away, I had to be more aggressive. I was a little passive at the start of the year, trying to find my bearings. But my teammates told me to be aggressive, to be myself, that nobody could defend on me. It was therefore easy to become a substitute playmaker. »
On arrival: his best career season with 11.5 points (and 12 points in the playoffs) and 3 assists on average. " I didn't show that I could lead in Brooklyn, but here, I'm mostly the replacement leader if you can say so. In the most important minutes of the match, I am on the pitch, contributing on both sides of the pitch. The biggest question was if I could score without being alongside the two big players (Durant and Irving) that I played with last year, and I proved it ", concludes Bruce Brown.
How to read the stats? MJ = matches played; Min = Minutes; Shots = Shots made / Shots attempted; 3pts = 3-points / 3-points attempted; LF = free throws made / free throws attempted; Off = offensive rebound; Def= defensive rebound; Tot = Total bounces; Pd = assists; Fte: Personal fouls; Int = Intercepts; Bp = Lost bullets; Ct: Counters; Points = Points.