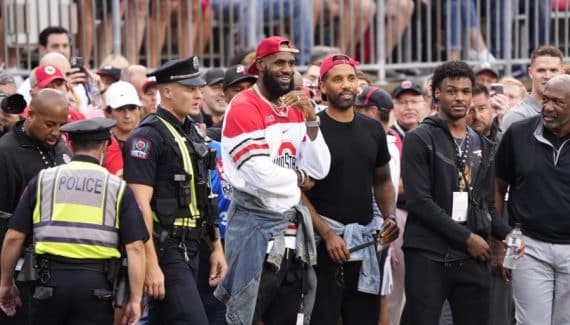 Could it be otherwise? For his very first official visit to a university campus, Bronny James, accompanied by his father, obviously chose Ohio State, the major university program of their native state.
This is clearly not a surprise since the Buckeyes have been among the programs seriously involved in the recruitment of Bronny James for several weeks. In addition, the campus is located in Columbus, a little over 200 kilometers south of Cleveland, the birthplace of Bronny James, and is favored by his father, who does not miss an opportunity to show his attachment to the program. A good mix of favorable arguments…
For the occasion, the father and the son were able to enjoy, on Saturday evening, an American football match between Ohio State and Notre Dame, at the start of the 2022/23 university season in this sport. The spectators in the stands did not fail to make calls to Bronny James, with songs "We Want Bronny! ".
Before making a decision about his future university, Bronny James will probably consider other visits to other campuses. The soap opera is only just beginning, even if the Buckeyes have reason to be confident…
Photo credit: Kyle Robertson, Columbus Dispatch