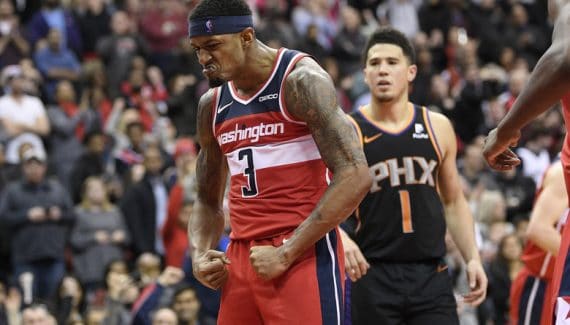 Absent from the field for five matches due to a left wrist injury, Bradley Beal consulted several specialists, and he finally decided to have surgery. According to ESPNwho keeps the information from his agent, this option will force him to give up on the end of the season, and his season is already over!
A blow for the player who had a very complicated first part of the season, but also and above all for his training, which has been losing momentum for several weeks. Without its leader, Washington has slipped to 11th place, and the team clearly lacks a leader to fill the interim.
On the contractual level, it is just as complicated for the leaders since Beal refused to extend, and he has the possibility of testing the market next July. Will he give up on a last season at 36 million dollars? Will he agree to extend for $245 million over five years, or join a title contender for $180 million over four years?
Answer in July, or as early as Thursday, if the Wizards decide to transfer him…
Bradley Beal
Percentage
Bounces
Season
Team
GM
Minimum
Shots
3 points
LF
Off
Def
Early
pd
party
Int
bp
CT
Points
2012-13
WAS
56
31
41.0
38.6
78.6
0.8
3.0
3.8
2.5
2.0
0.9
1.6
0.5
13.9
2013-14
WAS
73
35
41.9
40.2
78.8
0.7
3.0
3.7
3.3
2.1
1.0
1.8
0.3
17.1
2014-15
WAS
63
34
42.7
40.9
78.3
0.9
2.9
3.8
3.1
2.2
1.2
2.0
0.3
15.3
2015-16
WAS
55
31
44.9
38.7
76.7
0.8
2.7
3.4
3.0
2.1
1.0
2.0
0.2
17.4
2016-17
WAS
77
35
48.2
40.4
82.5
0.7
2.4
3.1
3.5
2.2
1.1
2.0
0.3
23.1
2017-18
WAS
82
36
46.0
37.5
79.1
0.7
3.7
4.4
4.6
2.0
1.2
2.6
0.4
22.7
2018-19
WAS
82
37
47.5
35.1
80.8
1.1
3.9
5.0
5.5
2.8
1.5
2.7
0.7
25.6
2019-20
WAS
57
36
45.5
35.3
84.2
0.9
3.3
4.3
6.1
2.2
1.3
3.4
0.4
30.5
2020-21
WAS
60
36
48.5
34.9
88.9
1.2
3.5
4.7
4.4
2.3
1.2
3.1
0.4
31.3
2021-22
WAS
40
36
45.1
30.0
83.3
1.0
3.8
4.7
6.6
2.4
0.9
3.4
0.4
23.2
Total
645
35
45.6
37.2
82.1
0.9
3.2
4.1
4.2
2.2
1.1
2.4
0.4
22.1