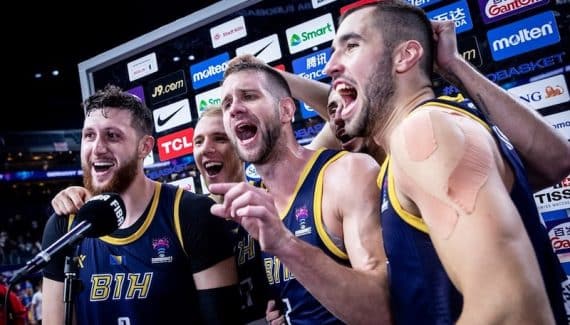 Exploit against Slovenia, narrow defeats against France and Germany… Bosnia and Herzegovina will have done better than figuration in this Euro, even if the qualification for the round of 16 of the competition is not at the end . Just a month ago, however, the Bosnian Federation, which admitted having difficulty in assuming the logistical costs, even wondered if its selection could take part in the event.
Jusuf Nurkicwho compared the situation to a " circus at the time, says he is still worn out today by this national context. Worn out but also inhabited by the desire to best represent his fellow citizens.
" Our nation struggles with governments and ordinary people just don't want to suffer. We represent the real people, those who love Bosnia. The course (to get here) was insane. Imagine if France didn't have a hotel to sleep in or food for the players…things like that. I don't have the words. At least it's stupid", he called the next day victory over the reigning European champions.
With this laborious preparation, the NBA pivot was faced with a reality at odds with his daily life in the big league. And for him, beneficiary this summer of a $70 million contract extension in Portland, " it is not normal. And that's what I want to tell people. People shouldn't have to deal with that. But I think that with a bit of luck, one day, that will change."
A call to go to the polls
His country, one of the most corrupt on the continenthas recently been plagued by protests, in the streets of Sarajevo in particularto demand measures to fight against inflation and the growing precariousness of part of the population.
The course of the Bosnian team at the Euro therefore has a political background. " We play for better luck and better gyms, but obviously we play for the people. Not for politicians or anyone else ", Continued the pivot star, according to whom neither the war in Ukraine, nor the Covid-19 pandemic will have changed the leaders of the country.
" I don't think that will change, even if we win the gold medal. They have been doing this for thirty years. I don't trust them, most people don't either. Those who live in this country and who really love it must go and vote. It's an election year, we must understand that after thirty years, we must change something ", called the basketball player in reference to the Bosnian general elections next October.
Jusuf Nurkic thus considers that " every game is more than basketball. We didn't come here to make money. Neither me nor the other eleven. It's more about how we're going to represent people. I told the guys on day one, even if we lose, we do it as a team. We don't want people to think we didn't play hard. All the matches played, from the first until today, and in qualifying for the World Cup, I don't think anyone can say that we didn't fight."