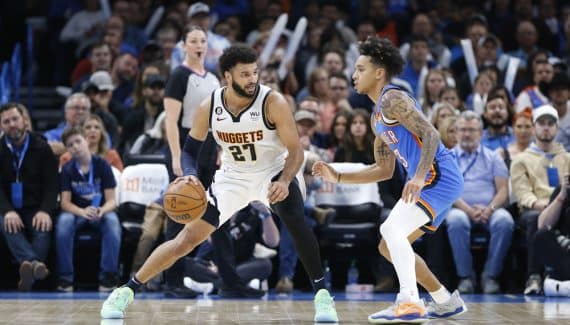 After a very good first half, punctuated with a 17-point lead, the Nuggets were particularly bad in the third quarter last night on the Thunder floor. Bad enough to forget how to defend, to collect 38 points, to squander their lead and to be doubled in score, after half an hour of play.
An incredible turnaround in just 12 minutes, which did not please Jamal Murray. Discreet in the first half with 8 points on the clock, the leader of Denver, helpless in the same way as his team against the rise of the Thunder in the third quarter, then sounded the revolt in the last act.
Like this furious dunk in the traffic at the start of the fourth quarter, during which he signed a 5/8 on shots, the Canadian indeed let his emotions explode, not hesitating to yell at everyone: his teammates so that they give him the leather, his opponents after a scored basket, and even a spectator in the first row, probably a little too teasing for his taste.
"He was yelling, 'Give me the ball, give me the ball…' and I was like, 'Dude, they just scored 38!' I didn't care about the attack." says Mike Malone.
In short, the "Blue Arrow", enraged by the loss of control of his team on returning from the locker room, took things in hand at the end of the game because he simply did not want to lose. Not in this way, while like his team, he has alternated hot and cold since the start of the season.
" It was starting to annoy me. So I conditioned myself, I ignored all the noises around me. I just didn't wanna lose, honestly » so he said.
Jamal Murray
Percentage
Bounces
Season
Crew
GM
Minimum
Shots
3 points
LF
Off
Def
Early
pd
party
Int
bp
CT
Points
2016-17
DEN
82
22
40.4
33.4
88.3
0.5
2.1
2.6
2.1
1.5
0.6
1.4
0.3
9.9
2017-18
DEN
81
32
45.1
37.8
90.5
1.0
2.7
3.7
3.4
2.1
1.0
2.1
0.4
16.7
2018-19
DEN
75
33
43.7
36.7
84.8
0.9
3.4
4.2
4.8
2.0
0.9
2.1
0.4
18.2
2019-20
DEN
59
32
45.6
34.6
88.1
0.8
3.2
4.0
4.8
1.7
1.1
2.2
0.3
18.5
2020-21
DEN
48
36
47.7
40.8
86.9
0.8
3.3
4.0
4.8
2.0
1.3
2.3
0.3
21.2
2022-23
DEN
6
27
41.5
33.3
55.6
0.2
2.7
2.8
3.2
0.7
1.0
2.2
0.0
13.8
Total
351
30
44.5
36.6
87.5
0.8
2.9
3.6
3.8
1.9
1.0
2.0
0.3
16.3