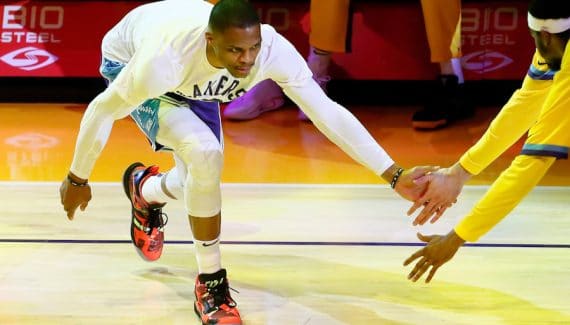 New nightmare evening for Russell Westbrook with an awful 1 out of 10 on shots, and an overtime watched from the bench! Whistled by the public after an ugly brick on the top of the board in the first half, the Lakers point guard is only a shadow of himself. Another example: this left-handed lay-up that Julius Randle will badly counter. There is no conviction in what Westbrook does.
As a result, the public at the Crypto.com Arena harassed him all evening, even to the point of asking him not to shoot when he was alone in the corner. Westbrook will eventually take the shot. And he will miss it…
"The most important thing in a game is winning. The guys gave it their all. We won, and that's all that matters." reacted Westbrook after the game. Relaxed but very mechanical in his responses, Westbrook does not want to expand on this dismissal on the bench. "We don't talk about me and what I do. The most important thing is the victory. The coach didn't tell me anything. He makes decisions for the good of the team. As I said, the most important thing is to win and we won."
Four days before the "trade deadline", it's hard to believe that the Lakers can aim for the title with him. His game without the ball is still just as ineffective, and since he is very clumsy, he is of little use. Result, Frank Vogel prefers to do without it in the extension.
To give an idea of ​​Westbrook's inefficiency, just look at his stats in the last five minutes of the 4th quarter: one missed shot, two missed free throws. And that's all ! Not a pass, not a rebound. Nothing.
"The only answer this player can give us is to play better"
" When we have in mind to win games, we just make difficult decisions" justifies himself Frank Vogel. " Russ obviously had a complicated evening, on both sides of the field… At the same time, LeBron was in great shape, and he had to have the ball in his hands. So I said to myself that we had to focus on defense first and I opted for Talen (Horton-Tucker)".
A journalist then asks him if he has any solutions in mind for Westbrook to be more effective off the ball and in defense.
"When a player is not playing, it does not mean that there is a problem and that he is not playing well enough" warns Vogel. "When a player isn't on the pitch when it's tight, that doesn't mean he can't help us win. There is nothing wrong with estimating that another player can help us more. The only answer this player can give us is to play better. "
"Given what he has done in the NBA, he should never have to think about it"
An answer that LeBron is ready to provide if Westbrook needs to.
"I told him to insist, to stop thinking. There were times when he had good positions, and he reflected. He's a player by instinct, and given what he's done in the NBA, he should never have to think. I told him, and I told him to call me tonight. I don't need to add more. He is a very great player, and I have unshakable confidence in his qualities, not only for the team, but also for him, individually. "
Russell Westbrook
Percentage
Bounces
Season
Team
GM
Minimum
Shots
3 points
LF
Off
Def
Early
pd
party
Int
bp
CT
Points
2008-09
OKAY
82
33
39.8
27.1
81.5
2.2
2.7
4.9
5.3
2.3
1.3
3.3
0.2
15.3
2009-10
OKAY
82
34
41.8
22.1
78.0
1.7
3.2
4.9
8.0
2.5
1.3
3.3
0.4
16.1
2010-11
OKAY
82
35
44.2
33.0
84.2
1.5
3.2
4.6
8.2
2.5
1.9
3.9
0.4
21.9
2011-12
OKAY
66
35
45.7
31.6
82.3
1.5
3.1
4.6
5.5
2.2
1.7
3.6
0.3
23.6
2012-13
OKAY
82
35
43.8
32.3
80.0
1.4
3.9
5.2
7.4
2.3
1.8
3.3
0.3
23.2
2013-14
OKAY
46
31
43.7
31.8
82.6
1.2
4.5
5.7
6.9
2.3
1.9
3.9
0.2
21.8
2014-15
OKAY
67
34
42.6
29.9
83.5
1.9
5.4
7.3
8.6
2.8
2.1
4.4
0.2
28.2
2015-16
OKAY
80
34
45.4
29.6
81.2
1.8
6.0
7.8
10.4
2.5
2.0
4.3
0.3
23.5
2016-17

★

OKAY
81
35
42.5
34.3
84.5
1.7
9.0
10.7
10.4
2.4
1.6
5.4
0.4
31.6
2017-18
OKAY
80
36
44.9
29.8
73.7
1.9
8.2
10.1
10.3
2.5
1.8
4.8
0.3
25.4
2018-19
OKAY
73
36
42.8
29.0
65.6
1.5
9.6
11.1
10.7
3.4
2.0
4.5
0.5
23.0
2019-20
HOO
57
36
47.2
25.8
76.3
1.8
6.2
7.9
7.0
3.5
1.6
4.5
0.4
27.3
2020-21
WAS
65
36
43.9
31.5
65.6
1.7
9.9
11.5
11.7
2.9
1.4
4.8
0.4
22.2
2021-22
ALL
53
35
44.1
30.5
67.4
1.4
6.5
7.9
7.7
3.0
1.1
4.1
0.3
18.7
Total
996
35
43.8
30.5
78.6
1.7
5.8
7.4
8.5
2.6
1.7
4.1
0.3
22.9