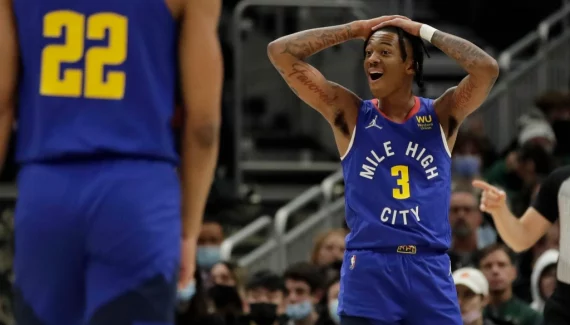 For more than a week, Bones Hyland's appearances during Denver games were rare. The rookie has indeed gone through a short period of turbulence, which earned him two "DNPs" against the Pistons and the Nets, and two anecdotal playing times, at 12 and 6 minutes, against the Grizzlies and the Pistons a second time.
" He wasn't feeling very well physically, he was a bit sick, so that's part of the explanation." claimed Mike Malone during last week. " The other aspect is that I try to find the right combination of guys who will give us regular and consistent efforts. Our group has struggled, and I'm not targeting any particular player, certainly not Bones. It's a collective irregularity, starting with me. But I talked about it with Bones, I'm trying to keep him confident."
Since then, the situation seems to have improved since the former VCU player has regained playing time close to his average for the season (17.5 minutes). First 24 minutes (for 6 points, 3 rebounds and 4 assists) in the success against the Pelicans on Friday, then 17 minutes on the occasion of the crushing victory of Denver on the floor of Milwaukee.
The rookie also participated well in the collective recital of the Nuggets: coming off the bench, he compiled 13 points (4/9), 5 rebounds, 6 assists and 1 interception and shone in the role of substitute leader, behind Monte Morris .
" He was vocal, he organized the game" noted Mike Malone. " It's a more mature Bones Hyland I've been seeing lately. I'm proud of him. He played with a very good rhythm, he created play, took good shots, fought on every possession. That's what we want to see from a youngster like him, who has so much potential. "
The person concerned, always very jovial and endowed with unfailing self-confidence, appreciated having taken on this role of creator for the replacements.
" When the ball is in my hands, I always have the feeling that we are in good shape. The final word went to Nikola Jokic, seduced by the progress observed in his young teammate, particularly in the "playmaking". " He begins to think differently delivered the "Joker". " He continues to learn."
Shots
Bounces
Players
GM
Minimum
Shots
3 points
LF
Off
Def
Early
pd
bp
Int
CT
party
Points
Nikola Jokic
43
33.2
57.1
37.5
80.9
2.8
11.0
13.8
7.7
3.5
1.4
0.7
2.6
26.2
Will Barton
41
32.7
43.2
37.0
79.4
0.7
4.3
4.9
4.2
1.8
0.9
0.5
1.5
15.4
Aaron Gordon
45
32.0
52.0
32.5
74.1
1.6
3.9
5.5
2.5
1.8
0.7
0.6
1.9
14.5
Monte Morris
45
30.1
46.2
35.9
83.0
0.4
2.7
3.0
4.2
1.1
0.7
0.1
1.3
12.5
Jeff Green
44
25.1
52.1
34.3
80.2
0.6
2.7
3.3
1.2
1.0
0.3
0.5
2.4
10.6
Michael Porter, Jr.
9
29.4
35.9
20.8
55.6
1.0
5.6
6.6
1.9
1.3
1.1
0.2
1.8
9.9
Bryn Forbes
5
19.6
34.8
35.0
100.0
0.2
0.6
0.8
1.0
0.4
0.0
0.0
2.4
8.6
Bones Hyland
36
17.5
36.4
33.7
87.8
0.2
2.3
2.5
1.7
1.1
0.5
0.3
2.1
8.3
austin rivers
35
21.4
42.1
35.6
70.4
0.3
1.3
1.6
1.1
0.9
0.7
0.1
1.6
6.6
Zeke Nnaji
32
15.1
52.5
50.8
62.7
1.2
2.2
3.4
0.3
0.4
0.2
0.2
1.8
6.5
Facundo Campazzo
47
21.4
37.9
31.1
80.3
0.4
1.6
2.0
3.9
1.3
1.1
0.4
2.2
6.3
Demarcus Cousins
4
12.6
24.1
18.2
75.0
2.2
4.2
6.5
0.8
3.0
1.0
0.2
3.0
6.2
Jamychal Green
36
14.6
43.7
25.0
85.7
0.9
2.7
3.6
0.8
0.9
0.7
0.5
2.1
5.6
Pj Dozier
18
18.9
36.4
31.2
76.9
0.8
2.7
3.5
1.6
0.7
0.6
0.3
1.8
5.4
Vlatko Cancar
14
10.9
56.4
58.3
75.0
0.4
1.2
1.6
0.9
0.6
0.1
0.2
0.9
4.3
Markus Howard
18
6.6
35.9
39.6
87.5
0.0
0.3
0.3
0.3
0.3
0.3
0.0
0.6
4.0
davon reed
22
14.5
46.5
44.1
80.0
0.4
2.2
2.6
1.0
0.3
0.7
0.1
1.5
3.9
bowl bowl
14
5.8
55.6
25.0
40.0
0.3
1.1
1.4
0.4
0.3
0.1
0.1
0.3
2.4
Rayjon Tucker
3
9.8
50.0
50.0
75.0
0.3
1.0
1.3
1.3
0.0
0.3
0.0
1.0
2.0
James Ennis
3
4.6
33.3
0.0
0.0
0.3
0.3
0.7
1.0
0.3
0.0
0.0
0.3
1.3
Petr Cornelie
13
2.9
33.3
12.5
75.0
0.5
0.5
1.1
0.2
0.3
0.1
0.1
0.5
1.1
carlik jones
2
2.0
50.0
0.0
0.0
0.0
0.0
0.0
0.0
0.0
0.0
0.0
0.0
1.0