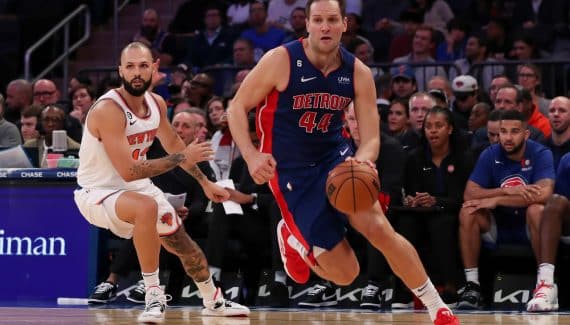 By recovering Bojan Bogdanovic in exchange for Saben Lee and Kelly Olynyk, the Pistons had managed to get their hands on an experienced shooter, capable of helping Cade Cunningham and his band in the short term.
The medium and long-term links between the 33-year-old Croatian and the Detroit franchise were more vague, however, and many imagined the club trying to take advantage of the value of the former Utah player at the next "trade deadline". especially since he was in the last year of his contract.
But the Pistons are counting on Bojan Bogdanovic to bounce back and ESPN announces that he has extended his lease for two seasons, for a total of $39.1 million, tying him to the club until 2025.
Enough to work calmly for the next few seasons, to help the club find the playoffs.
Bogdanovic is making $19.5 million in the final year of his contract, and now is tied to the Pistons through the 2024-2025 season. https://t.co/5xMyQ12kB9

— Adrian Wojnarowski (@wojespn) October 30, 2022
Bojan Bogdanovic
Percentage
Bounces
Season
Crew
GM
Minimum
Shots
3 points
LF
Off
Def
Early
pd
party
Int
bp
CT
Points
2014-15
BRK
78
24
45.3
35.5
82.1
0.6
2.1
2.7
0.9
1.3
0.4
1.0
0.1
9.0
2015-16
BRK
79
27
43.3
38.2
83.3
0.5
2.8
3.2
1.3
1.5
0.4
1.5
0.1
11.2
2016-17*
All Teams
81
26
44.5
36.7
89.3
0.5
3.0
3.4
1.4
1.8
0.4
1.6
0.1
13.7
2016-17*
BRK
55
27
44.0
35.7
87.4
0.4
3.2
3.6
1.6
1.8
0.4
1.7
0.1
14.2
2016-17*
WAS
26
23
45.7
39.1
93.4
0.5
2.5
3.1
0.8
1.8
0.4
1.5
0.2
12.7
2017-18
IND
80
31
47.4
40.2
86.8
0.4
3.0
3.4
1.5
1.6
0.7
1.3
0.1
14.3
2018-19
IND
81
32
49.7
42.5
80.7
0.4
3.7
4.1
2.0
1.7
0.9
1.7
0.0
18.0
2019-20
UTH
63
33
44.7
41.4
90.3
0.6
3.5
4.1
2.1
1.8
0.5
2.5
0.1
20.2
2020-21
UTH
72
31
43.9
39.0
87.9
0.6
3.4
3.9
1.9
1.6
0.6
1.8
0.1
17.0
2021-22
UTH
69
31
45.5
38.7
85.8
0.8
3.5
4.3
1.7
1.7
0.5
1.7
0.0
18.1
2022-23
TED
6
31
51.7
51.1
92.3
0.7
2.8
3.5
2.0
2.2
0.3
1.2
0.0
23.0
Total
609
29
45.7
39.4
86.2
0.5
3.1
3.6
1.6
1.6
0.6
1.6
0.1
15.1