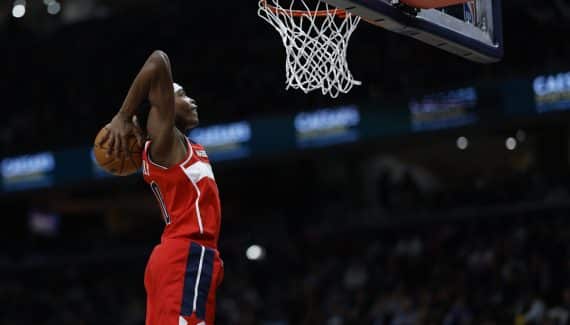 Like his friend Victor Wembanyama, Bilal Coulibaly discovers repeated defeats, and last night, his Wizards took a big spanking against the Bucks from an "unplayable" Giannis Antetokounmpo.
Always used off the bench, the Washington rookie confirmed that he had as much nerve as he had composure, and he has little to complain about with his 12 points, 3 rebounds and 2 interceptions at 5 out of 7 to the shots. He also signed a third 100% 3-point match in a week! Asked about his young opponent, Giannis predicted a very great career for him.
An exemplary attitude
" He had some very good moments. He defended very hard on Dame and he wasn't afraid of the situation." enjoyed the Greek. "He made a few cuts behind the back, a few dunks… in transition if I remember correctly. He has the right mindset: he doesn't try to be flashy, he gives his all, he tries to play the right way and help his teammates. The more he has this attitude, the more he will have the ball. The more he can play for himself, the more his coaches will run systems for him. He must continue to work on his game and his potential will be limitless."
What advice should you give him when he only has ten matches under his belt?
"That he continues to give his all and that he remains someone easy to coach" believes Giannis. "The question is whether there will be a lot of ups and downs, and you have to prepare yourself mentally for that. You have to be ready whatever happens. No matter what happens on the field, you have to rely on what you have deep down: being a hard worker. For me, if you behave like that, you can't fail! If I lose by 30 points, I continue, and the next day, I wake up, and we win by 40… And the next day again, I wake up and I go on the field… When you have this mentality, it's only 'a matter of time before you excel. »