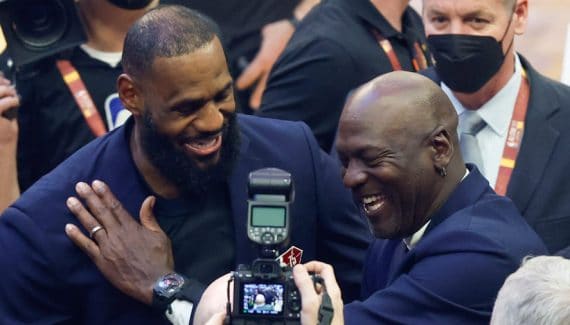 LeBron James and Stephen Curry were born in the same clinic, in Akron, four years apart, and they are the two heroes of the evening! The first scored the winning basket, while the second planted 50 points with 16 3-point baskets. Even "if Akron is not Cleveland", to paraphrase LeBron James, this very special All-Star Game rewarded the two children of the country.
"I couldn't ask for more. I couldn't dream of anything better than this moment as it happened" reacted LeBron James about this "game winner" planted at nearly seven meters, at 45 °. "I said it, but to be there, 35 minutes from Akron, where I grew up, and score the winning basket… With my friends, we used to to watch the All-Star Game. 25 years ago, I was 11 or 12 years old, and I dreamed of having the chance to come to Cleveland to see some of the greatest players of all time because they inspired us so much. For me, it's huge to be there, with my best friends, my wife, my children, my family, my mother… There are so many people who have seen me grow from this little kid to who I am. today. I would never have imagined living such a moment. "
"Seriously, Steph… This guy is from another planet"
His basket allows his Team LeBron to win, and he is still undefeated as captain, but also to validate Stephen Curry's MVP title.
"Seriously, Steph… This guy is from another planet," LeBron continued. "He has an automatic pistol at arm's length, and when he fires it, you think it's going to go in all the time. Not just him, but everyone on the pitch, in the stands, on TV, on the phones, wherever you see it from…"
For Curry, this evening was also like a dream. "I told LeBron after the game it was the perfect ending. I have the MVP and I played well all evening. He scores the winning basket. Tonight, there was all the past of our series between the Warriors and the Cavaliers, and the links with Akron. It couldn't have gone better. "
"Being part of the 75 greatest players in history takes me back to my childhood"
All under the eyes of dozens of NBA legends. Some left us, some couldn't come, but there were almost 50 in the photo, and LeBron is proud to be among basketball legends, and we won't forget that beautiful hug with Michael Jordan.
"To be among the 75 greatest players in history brings me back to my childhood, once again, in Spring Hill, where I had all my role models posted on my wall. Allen Iverson and Jason Kidd, Gary Payton, Michael Jordan, Magic Johnson, Oscar Robertson… You can't understand what it's like to see these guys today and be on stage with them. I try to make you understand it as much as I can, but it's just crazy. "