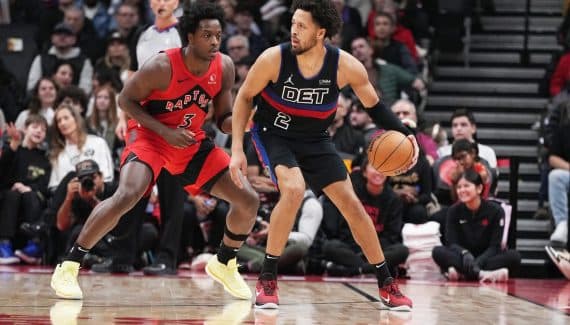 The black streak is still underway in Detroit. The setback in Toronto is in fact the 11th in a row and even more than the final result, it is the content which is alarming. During several matches, although lost, Cade Cunningham and the Pistons were still in the game, before breaking down at one point or another.
There, they did not exist from start to finish, being stunned by the excellent ball circulation of the Raptors (44 assists). Result: a defeat of 29 points and no less than 142 conceded…
" This is unacceptable ", says the leader. "We are the youngest team in the league and we are hanging in there. The intensity and level of combativeness should be the last thing we ask ourselves or talk about. It should be a no-brainer. We should be motivated as soon as we get up in the morning. Monty Williams shouldn't even ask us if we want it or not. We try, with Isaiah Stewart, to talk about it. Everyone has to get involved. »
Youth cannot excuse everything
To explain this very bad patch, we must not forget that the Pistons are weighed down by injuries (Bojan Bogdanovic, Jalen Duren, Joe Harris, Monte Morris, Isaiah Livers, Killian Hayes, etc.). However, the group's youth cannot be an excuse for everything. This is the main message repeated over and over by Monty Williams. Moreover, on the Oklahoma City side, the Thunder demonstrates that youth can rhyme with accuracy.
But the Detroit team is far from this level, with twelve defeats and only two small victories on the clock. The last one dates back to October 28…
"We have to be realistic. It's hard to just say that we are good, that everything is fine, because we are bad, notes Cade Cunningham. "We have to do something and correct the areas we are not good at. Not just with words, but with actions, on the floor, and when we talk to each other between players. »
Monty Williams, for his part, assures that he is not discouraged, even if there is work to be done.
"I can't say I'm discouraged. My job is to teach and help guys break habits they've had for a while. I can't talk about what happened in the past, but when we see it, we talk about it and help the guys improve."concluded the technician.
Cade Cunningham
Percentage
Rebounds
Season
Team
MJ
Min
Shots
3pts
L.F.
Off
Def
Early
Pd
Party
Int
Bp
Ct
Pts
2021-22
DET
64
33
41.6
31.4
84.5
0.9
4.6
5.5
5.6
3.1
1.2
3.7
0.7
17.4
2022-23
DET
12
33
41.5
27.9
83.7
1.0
5.2
6.2
6.0
2.8
0.8
3.3
0.6
19.9
2023-24
DET
13
36
40.4
29.6
87.5
0.5
3.2
3.7
7.4
3.4
0.7
4.9
0.2
21.2
Total
89
33
41.4
30.7
84.9
0.9
4.5
5.4
5.9
3.1
1.1
3.8
0.6
18.3
How to read the stats? MJ = matches played; Min = Minutes; Shots = Successful shots / Attempted shots; 3pts = 3-points / 3-points attempted; LF = free throws made / free throws attempted; Off = offensive rebound; Def=defensive rebound; Tot = Total rebounds; Pd = assists; Fte: Personal fouls; Int = Intercepts; Bp = Lost balls; Ct: Against; Pts = Points.