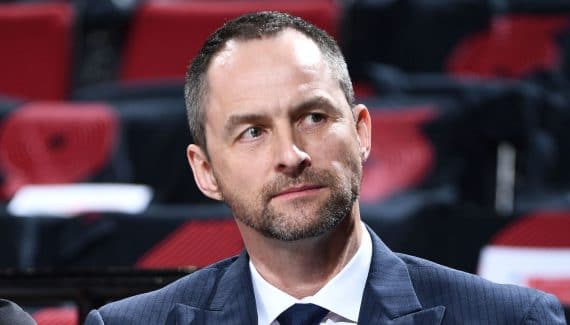 Two summers and a "trade deadline" will have been enough for Arturas Karnisovas to transform the Bulls and bring them back to the top of the Eastern Conference. Trained at the Rockets and the Nuggets as a leader, the vice-president of Chicago cleaned up, made important exchanges, bet on the right horses during the "free agency", and 18 months after his arrival, there are no more than Zach LaVine and Coby White from his predecessor's squad!
"When we hired Arturas, I was confident that he would help us turn things around, but I admit that I didn't think it would be so quickly," said Michael Reinsdorf, the president of the franchise, at ESPN. " There are no problems. There are no stories. There is simply everyone who wants to reach the next level. It's a good feeling, and it's exciting to be involved again".
After having missed the playoffs six times over the last seven seasons, the Bulls are today first in their conference, and Michael Reinsdorf appreciates the Karnisovas method, before a summer to lay the foundations with Billy Donovan and another to hit hard with the arrivals of DeMar DeRozan, Lonzo Ball and Alex Caruso.
"When we designed the squad, we focused on defence"
"Arturas and Billy really took the time to get to know Zach LaVine, only to find out he wanted to win" he continues. "Zach had been on bad teams, and the same way it wasn't Devin Booker's fault in Phoenix for years, it wasn't Zach's fault here. We needed to help him. Billy, Arturas and GM Marc Eversley spend a lot of time with our players. They are not recruits, they are people first. But especially with Zach, they took the time to figure out who he was. It was easy for people on the outside to say, 'Oh, he's just a scorer and he doesn't care about anything else. But those who knew Zach the best are those who spend time with him, and who go beyond basketball. »
Another asset of Karnisovas, he knows how to delegate. To recover Nikola Vucevic, he was on the front line. For DeMar DeRozan, he let Marc Eversley maneuver because he had known the All-Star guard at the Raptors.
"Arturas' lack of ego means he doesn't have to be the go-to man for every deal. He was aggressive on last season's trade, and he showed everyone that the status quo wasn't good enough. It was smart, and it started a chain reaction that got us to where we are today. When we designed the squad, we focused on defence. Alex Caruso is essential. Lonzo Ball is a great rookie to make us play in rhythm. It's the perfect complement. There is also Ayo Dosunmu in the second round. He was very high on our list. In the end, it's not a victory lap, but it's good to be concerned, and involved in intense and important encounters. We have a lot of work to do, but we are happy to be here".
Shots
Bounces
Players
GM
Minimum
Shots
3 points
LF
Off
Def
Early
pd
bp
Int
CT
party
Points
Demar Derozan
36
34.8
49.2
35.2
84.8
0.8
4.4
5.2
4.7
2.1
0.8
0.3
2.3
26.0
Zach Lavine
37
34.8
49.1
41.2
87.2
0.3
4.6
4.9
4.3
2.9
0.6
0.4
1.6
25.6
Nikola Vucevic
32
33.1
42.9
33.5
69.6
2.0
9.2
11.2
3.4
1.5
1.1
1.1
2.2
15.9
Lonzo-Ball
34
35.0
42.3
42.4
74.1
1.0
4.5
5.5
5.1
2.3
1.9
0.9
2.4
12.9
Coby White
21
24.8
46.1
38.8
78.9
0.1
2.4
2.5
2.3
1.2
0.5
0.2
2.2
11.7
Alex Caruso
26
28.0
44.8
36.4
83.0
1.0
2.8
3.7
4.0
1.5
2.0
0.3
2.5
8.4
patrick williams
5
24.9
56.5
50.0
100.0
0.2
2.0
2.2
0.6
0.4
0.6
0.4
1.8
6.6
Ayo Dosunmu
35
19.5
53.3
42.4
61.1
0.4
1.7
2.1
1.2
1.0
0.4
0.4
1.7
6.5
Derrick Jones
31
17.2
58.2
40.5
84.8
1.2
2.2
3.4
0.5
0.5
0.5
0.7
2.3
6.3
Javonte Green
29
22.2
49.6
36.4
80.0
1.5
2.7
4.2
1.0
0.6
0.8
0.4
2.1
5.8
Alfonzo McKinnie
8
14.7
42.1
42.9
0.0
1.1
0.9
2.0
0.4
0.8
0.2
0.2
1.8
5.1
Tyler Cook
9
10.4
65.0
0.0
87.5
0.7
1.7
2.3
0.3
0.4
0.3
0.1
1.6
4.4
Troy Brown, Jr.
28
14.7
43.1
34.0
75.0
0.5
2.4
2.9
1.2
0.3
0.7
0.1
0.9
4.4
Tony Bradley
27
12.5
58.2
0.0
76.9
1.5
3.0
4.5
0.5
0.6
0.2
0.7
1.3
3.8
Matt Thomas
16
9.5
37.3
37.5
70.0
0.1
0.8
0.9
0.4
0.1
0.2
0.1
0.3
3.6
Devon Dotson
10
7.8
52.6
28.6
62.5
0.1
0.8
0.9
1.3
0.5
0.1
0.0
0.9
2.7
Mac McClung
1
2.5
100.0
0.0
0.0
0.0
0.0
0.0
0.0
1.0
0.0
0.0
0.0
2.0
Alize Johnson
16
7.5
52.2
0.0
57.1
1.0
1.2
2.2
0.5
0.5
0.2
0.0
0.9
1.8
Marko Simonovic
7
3.6
11.1
0.0
87.5
0.4
0.4
0.9
0.0
0.3
0.0
0.1
0.7
1.3
Jordan Bell
1
2.0
0.0
0.0
0.0
1.0
0.0
1.0
0.0
0.0
1.0
0.0
2.0
0.0