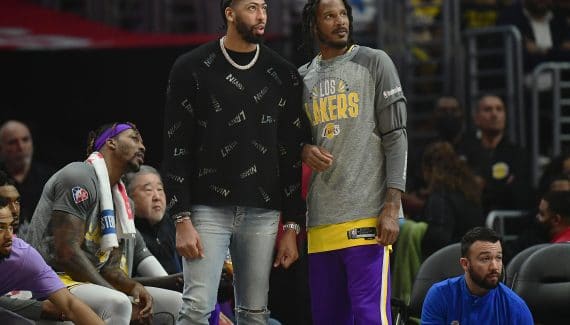 " I looked up and saw Royce O'Neale or Donovan Mitchell turn around and say, 'Oh shit. That's the first thing I heard." Anthony Davis has obviously not forgotten this sequence, in the heart of a match against Jazz, where he rose to catch a lob pass before falling badly on the foot of Rudy Gobert.
" When it happened, I heard a crack, like it was all in my foot. And when I saw that I couldn't move my foot, my first thought was: 'May it not be broken'", remember insidequestioned ahead of last night's game against the Suns.
Only 15 games left to play…
" Not yet ! ", also said "AD" who, a little earlier in the season, had already missed 17 matches because of his knee. " I just got sidelined for four to six weeks. I still have four to six. The frustration came from there. I was a little relieved that it wasn't as bad as imagined. But above all I felt anger saying to myself: 'Here we go again'."
Almost a month after this last injury, contracted during the last game before the "All-Star Break", the interior has still not returned to the field. A shooting session has been scheduled for him on Monday but his return date is still not known, while there are only 15 games left at the Lakers.
" It is 100% possible"smiles Frank Vogel questioned on his level of confidence at the idea of ​​​​recovering his player. " We will see. He will test, increase his workload and see how he reacts."
" I'm very optimistic about it."displays Anthony Davis. "I try to get back on the pitch as quickly as possible. As for (his degree of certainty to return)I would like to say 100% but with only a certain number of matches left, it's not 100% sure. "Implicitly: it could be put in the fridge to avoid a hasty return if the season no longer has too many stakes.
With his current spell out, the Lakers have won just two of their last nine outings. But when he played this season, the Californians did not show a positive record either (17 wins – 20 losses). This is what makes LeBron James say that his potential return will not erase all the deeper problems.
Not the answer to all questions
" It would be putting a band-aid on certain things. By that I mean that we lack the chemistry, the time spent together to know exactly who we are and who we can become. We've probably just faced the most stable team of the last two or three years. (Chris Paul) wasn't there, but they brought in Cameron Payne and it continues. It will be a challenge for us. AD certainly helps, but it's not the answer to all questions", Analyzes the « King".
Los Angeles has almost no chance of qualifying directly for the playoffs anyway. The outcome of this black season should therefore be played with a passage through the "play-in". But already questions are being asked about the future of this team and the future association between LeBron James and Anthony Davis.
The latter is aware of being faced with a " small shooting window according to the evolution of the situation of his 37-year-old teammate. " He still has a year left on his contract with the Lakers, and then who knows? I don't know what he intends to do. So we have this year and next year to try to get another ring. "
Anthony Davis
Percentage
Bounces
Season
Team
GM
Minimum
Shots
3 points
LF
Off
Def
Early
pd
party
Int
bp
CT
Points
2012-13
NOP
64
29
51.6
0.0
75.1
2.6
5.6
8.2
1.0
2.5
1.2
1.4
1.8
13.5
2013-14
NOP
67
35
51.9
22.2
79.1
3.1
7.0
10.0
1.6
3.0
1.3
1.6
2.8
20.8
2014-15
NOP
68
36
53.5
8.3
80.5
2.5
7.7
10.2
2.2
2.1
1.5
1.4
2.9
24.4
2015-16
NOP
61
36
49.3
32.4
75.8
2.1
8.2
10.3
1.9
2.4
1.3
2.0
2.1
24.3
2016-17
NOP
75
36
50.5
29.9
80.2
2.3
9.5
11.8
2.1
2.2
1.3
2.4
2.2
28.0
2017-18
NOP
75
36
53.4
34.0
82.8
2.5
8.6
11.1
2.3
2.1
1.5
2.2
2.6
28.1
2018-19
NOP
56
33
51.7
33.1
79.4
3.1
8.9
12.0
3.9
2.4
1.6
2.0
2.4
25.9
2019-20
ALL
62
34
50.3
33.0
84.6
2.3
7.0
9.3
3.2
2.5
1.5
2.5
2.3
26.1
2020-21
ALL
36
32
49.1
26.0
73.8
1.7
6.2
7.9
3.1
1.7
1.3
2.1
1.6
21.8
2021-22
ALL
37
35
53.7
18.2
70.9
2.8
6.9
9.7
2.9
2.5
1.2
2.1
2.3
23.1
Total
601
34
51.5
30.3
79.4
2.5
7.7
10.2
2.3
2.4
1.4
2.0
2.3
23.8