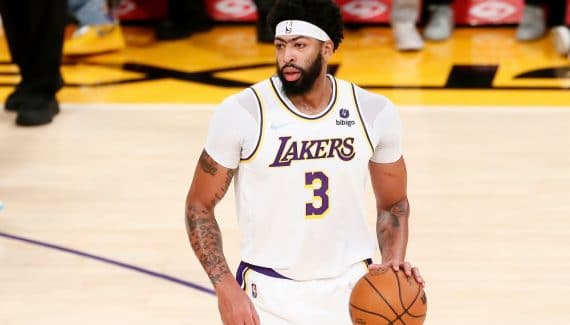 We will have official information on the state of health of Anthony Davis at the beginning of next week, a month after his left knee ligament sprain, but ESPN understands the Lakers are optimistic of a comeback within days.
As the interior of Los Angeles participated in individual training on Friday and that he is "moving well" according to our colleagues, the franchise hopes to see him again during the "road trip" at the end of January.
After a game in Denver, then receptions from Utah and Indiana by the middle of next week, LeBron James and company will then leave for six straight away games in the Eastern Conference between the 21 and January 30.
The Californians will thus play in Orlando, Miami, Brooklyn, Philadelphia, Charlotte and finally Atlanta. Davis has missed 12 games since his injury and the Lakers are suffering without him, with a 5-7 record.
Anthony Davis
Percentage
Bounces
Season
Team
GM
Minimum
Shots
3 points
LF
Off
Def
Early
pd
party
Int
bp
CT
Points
2012-13
NOP
64
29
51.6
0.0
75.1
2.6
5.6
8.2
1.0
2.5
1.2
1.4
1.8
13.5
2013-14
NOP
67
35
51.9
22.2
79.1
3.1
7.0
10.0
1.6
3.0
1.3
1.6
2.8
20.8
2014-15
NOP
68
36
53.5
8.3
80.5
2.5
7.7
10.2
2.2
2.1
1.5
1.4
2.9
24.4
2015-16
NOP
61
36
49.3
32.4
75.8
2.1
8.2
10.3
1.9
2.4
1.3
2.0
2.1
24.3
2016-17
NOP
75
36
50.5
29.9
80.2
2.3
9.5
11.8
2.1
2.2
1.3
2.4
2.2
28.0
2017-18
NOP
75
36
53.4
34.0
82.8
2.5
8.6
11.1
2.3
2.1
1.5
2.2
2.6
28.1
2018-19
NOP
56
33
51.7
33.1
79.4
3.1
8.9
12.0
3.9
2.4
1.6
2.0
2.4
25.9
2019-20
ALL
62
34
50.3
33.0
84.6
2.3
7.0
9.3
3.2
2.5
1.5
2.5
2.3
26.1
2020-21
ALL
36
32
49.1
26.0
73.8
1.7
6.2
7.9
3.1
1.7
1.3
2.1
1.6
21.8
2021-22
ALL
27
35
52.1
17.9
72.7
2.7
7.2
9.9
2.9
2.3
1.2
2.2
2.0
23.3
Total
591
34
51.4
30.4
79.6
2.5
7.7
10.2
2.3
2.3
1.4
2.0
2.3
23.8