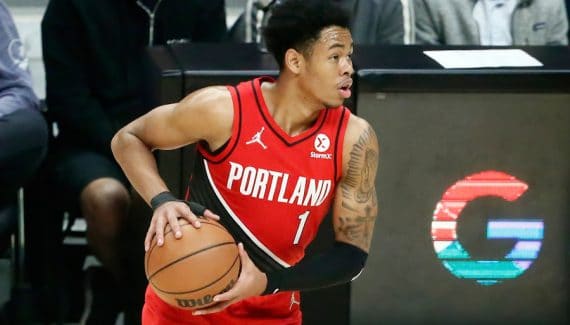 It's the kind of high-class action you don't see that often on the NBA floors, which are full of talent per square meter. At the end of the 24-second clock, Anfernee Simons chained one, two, three dribbles between the legs. He feels the gap and overflows Patty Mills in a jerk before taking support to take off towards the circle.
Along the way, he meets the muscular Day'Ron Sharpe who defends according to the standards accepted by the "refs", namely by remaining vertical. In his momentum, Simons finds himself swept to the right and the back of the Blazers then twists before sending the ball over the defense, and his head, blindly. The whistle sounds and the ball falls in. Cart plus fault. Ant can then land…
"I was surprised it fell into it honestly, but it was instinct. I threw the ball guessing where the circle was. "
Simons on a Cloud
In the best period of his career currently, at 27.8 points and 7.6 assists over his last 5 games, Simons is bringing his immense talent to light.
Author of 23 points and above all 11 assists, new career record in his match against Brooklyn, in a victory (114-108) and this, after another career record of 43 points against Trae Young and the Hawks, in a another success (136-131), a rarity this season for the Blazers ten days ago, Simons is a public danger at the moment.
With 31 points (10/17 on shots), plus 3 rebounds and 6 assists, he also led the Blazers to an important victory as they remained on six losses in seven games. " He was remarkable" explained Jusuf Nurkic. " Without him, we cannot win this game. "
When Chauncey Billups announced at the start of the season that the Blazers wanted to make Anfernee Simons the real understudy of Damian Lillard, he presented it as a promotion, a step forward for the player. But at the end of the day, Simons was already coming off the bench for the past three seasons, his first three. And it would still be the same refrain for the fourth…
But, in fact, Billups was just suggesting that he needed to be given the ball more. That this nomination in n°2 on post 1 had been motivated by the desire that he himself initiates the game of his team. And Simons did more than take advantage of the abdominal injury of his eldest and mentor, Damian Lillard, he definitely took off.
"That's my main objective: to show that I can be a great player. That's what I'm trying to do." explains Simons on NBA.com.
The year of the explosion
It's often said that in the NBA, it's all about opportunity. Lillard had announced it, and it is happening. After three seasons, it is finally the year of the explosion for the prodigy of Florida.
"Probably even more this year than others, some young players are getting opportunities to play and making the most of them", says Alvin Gentry, an old hand in the NBA. "Look at a kid like Simons, who everyone thinks is a good player. But how good is it? Well, when you're playing behind two big guys at the back, there's not a lot of game time. But now that he has a lot of minutes, you can see what he's capable of. "
Explosive as possible (see video below) and now more in control of his dribbling and more mature in his offensive decision-making, Simons has become downright untenable. Arrived very young in the League, the ant of the Blazers is hardworking and his progress behind the scenes is finally reflected. The right opportunity for a talent who is still only 22 years old!
"I think he's on his way to becoming a starter in the NBA.", assures Coach Billups. "This current ladyless period is very important for Ant. I know what I think of him but it's not about me anymore, he has to go and prove to everyone what he can do. He will have to maintain this requirement. "
Simons freed
After her record-breaking and emotionally charged performance following the death of her grandfather, Simons managed to turn the page and move on. If he has always had the form with his elegant and spectacular game, Simons has now added the bottom. The No. 1 option for Blazers who are having a very hectic season on and off the field, the winner of the 2021 dunk contest has free rein at Rip City.
"I'm learning every game, making mistakes and being more aggressive in certain aspects of the game. I know a lot of teams are going to start paying more attention to me. I try to prepare for it and know how to respond to it. I think I'm doing pretty well. "
Having experienced ups and downs during his young but already long NBA career, including a third season that fell short of expectations, Simons has always followed his course, his work ethic being praised by all in the franchise. from Oregon. The arrival of Billups, combined with an outer sector plucked by force of circumstance, served as a trigger and Anfernee Simons played completely liberated.
"They just want me to play my game. Everyone encourages me to shoot, to play and I have their trust to do it. It makes things much easier. I don't come into a game worrying about the weight on my shoulders. "
Anfernee Simons
Percentage
Bounces
Season
Team
GM
Minimum
Shots
3 points
LF
Off
Def
Early
pd
party
Int
bp
CT
Points
2018-19
ORP
20
7
44.4
34.5
56.2
0.2
0.5
0.7
0.7
0.5
0.1
0.6
0.0
3.8
2019-20
ORP
70
21
39.9
33.2
82.6
0.4
1.8
2.2
1.4
1.9
0.4
0.9
0.1
8.3
2020-21
ORP
64
17
41.9
42.6
80.7
0.2
2.0
2.2
1.4
1.5
0.3
0.7
0.1
7.8
2021-22
ORP
35
26
44.3
39.2
94.3
0.5
2.1
2.7
2.9
2.0
0.4
1.5
0.1
14.1
Total
189
19
42.0
38.5
83.0
0.3
1.8
2.1
1.6
1.7
0.3
0.9
0.1
8.7