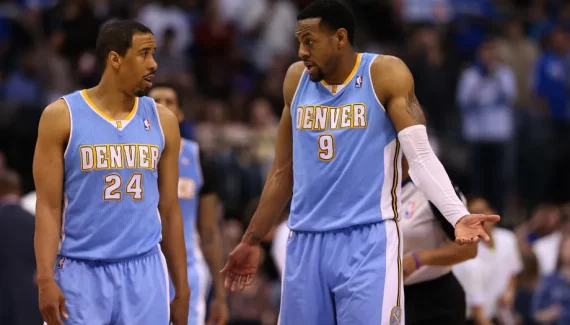 Best passer in the league in 2001/2002 (10.9 assists average) with the Cavaliers, Andre Miller continued his career at the Clippers for one season then in Denver, from 2003, alongside the young Carmelo Anthony.
Despite three straight first-round eliminations between 2004 and 2006, Miller and the Nuggets were consistently among the top eight teams in the West, and the point guard was still doing his usual stats.
Except that in December 2006, the leaders of Colorado realize a huge blow by bringing in Allen Iverson. For this, Miller is sacrificed…
"I was in training when I was transferred"remembers Miller for the knuckleheads podcast. "Allen Iverson was on his way to Denver. I went into the locker room after practice and my phone rang. My mother tells me that I was transferred to the Sixers, I was surprised. I was crazy because I thought things were going well in Denver, we had made the playoffs three years in a row and Philadelphia was one of the worst teams in the league. "
"I was transferred for a legend, not for a sandwich or Gatorade"
Iverson, MVP in 2001, quadruple leading scorer in the league, was then only 30 years old. He comes out of a season with 33 points on average and remains an indisputable All-Star, one of the best players in the league. For Miller, it is ultimately not so infamous to be exchanged for such a monument.
"After I understood, it was the business of the league. And I thought to myself that I was transferred against a legend, not against a sandwich or Gatorade. It was still a good thing: a team wanted me. That's how I saw things. "

Miller's fears about the level of Philadelphia will be justified since the Sixers will not play in the playoffs in 2007, unlike Denver, still eliminated in the first round against the Spurs, future champions. Nevertheless, the point guard, who will return to Denver in 2011, will not have wasted his time in the city of brotherly love.
"I went from Carmelo Anthony, Kenyon Martin and JR Smith, to a team of young players, who will become legends. I think of Andre Iguodala, Louis Williams. But also to Thaddeus Young, Willie Green. They are legends to me. "
Better, here he is again in Denver since he will take care of the G-League team, the Grand Rapids Gold.