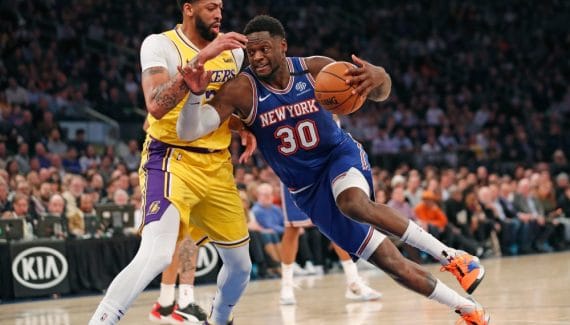 While formations like Philadelphia, Brooklyn or even Boston and Milwaukee took advantage of the "trade deadline" to strengthen and retouch their workforce, the Lakers and the Knicks ultimately did not move. Yet among the most disappointing teams of the season, since they are not, virtually, qualified for the playoffs, the two franchises were however in contact since Wednesday evening.
But ESPN reports that the two former agents now in charge of the two franchises, Leon Rose on the Knicks side and Rob Pelinka on the Lakers side, failed to reach an agreement. We have long talked about the comings of Cam Reddish and Alec Burks to the Lakers, but ultimately, they will stay with the Knicks.
Our colleagues also report that there have been serious touches between the Lakers and the Rockets. Russell Westbrook and Talen Horton-Tucker were going to Texas in exchange for John Wall and Christian Wood. It didn't work.
For the two formations, all is not yet lost since there will be the "secondary market", that of the "buyout" where we will undoubtedly find players like Goran Dragic, Tristan Thompson and perhaps Dennis Schroder . A dozen players, who do not enter into the plans of their teams, will negotiate their departure.
Each year, there are a few good picks to be made, but that also means that it will be necessary to degrease upstream. Moreover, the Knicks and the Lakers will not be the only ones on the spot, and given their situations, they will not necessarily be the most attractive destinations.