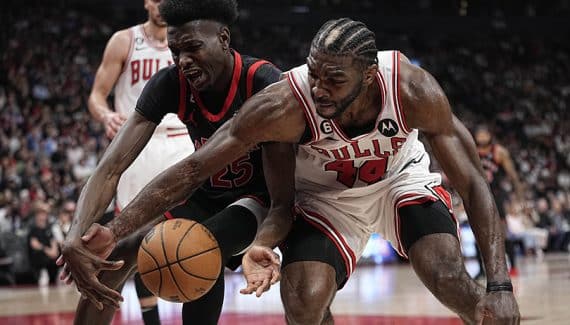 Strange season for patrick williams. Put on waivers in preseason with Javonte Green for the last place in the Chicago five, the winger finally had the confidence of his coach, which he kept almost until the end.
For the first time, the player has played 82 matches (with 65 starts), which is good news after his 2021/22 year truncated by injuries (17 matches played). In addition, he averaged 10.2 points, which is also a career high. It is therefore his best season, but a feeling of frustration remains.
"Oh no", he answers at The Athletic when asked if he has shown his potential this season. "It's my third year, the first complete, I learned a lot, for sure. I have to keep that and come back better next season. That's the goal: to always come back stronger. I want to stay in this league for a long time so I have to improve. »
Will the Bulls again sacrifice a player who does not explode?
This isn't the first time the Bulls have found themselves with a high-potential player who can't seem to fully spread his wings. There was obviously Lauri Markkanen, who has just been crowned best progress of the year with the Jazz, or to a lesser extent Wendell Carter Jr, author of solid seasons in Orlando now.
How will the franchise approach the Williams file, which will be free at the end of the 2023/2024 season? It can extend it before the start of next season or transfer it this summer for example. Except that if betting big on him now seems complicated, parting with him without going to the end of his contract could be premature.
It is undoubtedly the player, with his future performances, who will provide the answers to the leaders. "I have to do more", he announces. "I want to be more consistent, I want to show what I am capable of. All players want to make decisive actions. I think I have the qualities for that. The opportunities were there, I failed to seize them. Sometimes yes, sometimes no. »
DeMar DeRozan's Butterfly
The main fault of Patrick Williams since his arrival in the NBA is his lack of aggressiveness, biting. He is too often absent on the rebound and passive in attack, waiting (too much) in his corner. As he is not clumsy at 3-pointers and has great athletic qualities, he has all the weapons to shine and relieve Zach LaVine and DeMar DeRozan. Still need to use them…
"I could never say that everything was perfect for me. I feel more comfortable, more aggressive without being the player I want to be. You have to work to be who you want to be in this league. It's obvious that, at 21, we're not the player we'll be at 31. I haven't wasted any time this season and when I say that I haven't always been up to it, I'm not saying that I had a bad season, just that there is still work to do. »
Despite his three seasons in the legs, the former Florida State is actually only 21 years old. That's why DeMar DeRozan still believes in him.
"He felt comfortable as the season progressed. It's raw talent and he doesn't know it." esteem the full-back/winger. "He didn't hesitate or back down in the face of certain challenges, he showed his character. The most important thing is his mentality, his approach. He must try to figure out how he can explode. I find that it is still only a caterpillar which must become a magnificent butterfly. As soon as he understands that, he will cross a course. »
patrick williams
Percentage
Bounces
Season
Crew
GM
Minimum
Shots
3 points
LF
Off
Def
Early
pd
party
Int
bp
CT
Points
2020-21
CHI
71
28
48.3
39.1
72.8
0.9
3.7
4.6
1.4
1.8
0.9
1.4
0.7
9.2
2021-22
CHI
17
25
52.9
51.7
73.2
1.0
3.1
4.1
0.9
1.7
0.5
0.9
0.5
9.0
2022-23
CHI
82
28
46.4
41.5
85.7
1.0
3.0
4.0
1.2
1.8
0.9
1.2
0.9
10.2
Total
170
28
47.7
41.4
77.9
1.0
3.3
4.3
1.3
1.8
0.9
1.3
0.7
9.7
How to read the stats? MJ = matches played; Min = Minutes; Shots = Shots made / Shots attempted; 3pts = 3-points / 3-points attempted; LF = free throws made / free throws attempted; Off = offensive rebound; Def= defensive rebound; Tot = Total bounces; Pd = assists; Fte: Personal fouls; Int = Intercepts; Bp = Lost bullets; Ct: Counters; Points = Points.