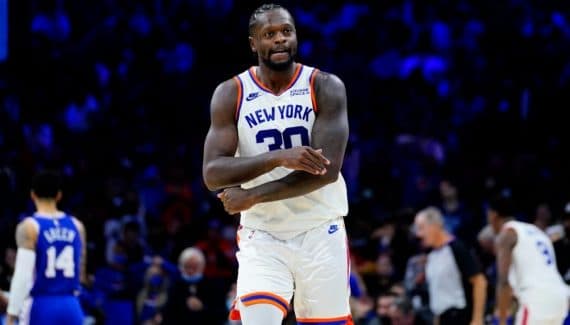 After the Knicks' easy win over the Kings, Julius Randle spoke to the press. It's a good sign and the All-Star interior found some color last night with a performance of 17 points, 9 rebounds and 4 assists. On the opposing bench, Alvin Gentry, a coach he knows well since he met him at the Pelicans.
It was in New Orleans that Julius Randle emancipated himself and launched his career. He only stayed there a year before giving in to the sirens of New York, and Alvin Gentry wanted to defend her in this tormented period.
"I think he's a better player, and he was already a very good player" believes Alvin Gentry, compared to the time of the Pelicans. "He was really amazing with us. I think he has things under control a little better. Right now he is indeed in a bit of trouble, but it's never about effort or anything. "
For the Kings coach, only his shooting skills are open to criticism.
" He doesn't shoot as well as he used to, but he still has that ability to attack the circle, dribble on the counterattack, and create. He was already doing all that in New Orleans, but he's doing it much better now. He's a good guy to coach because he loves competition and isn't afraid of confrontation.. "
To defend it, Alvin Gentry also recalls that it evolves today in a highly mediatized environment. " Obviously, it's a bit different when you play in this city. You have to be strong in all areas. He's a very sensitive person, but for me, it's for the best. We had experienced episodes like that, but I think he has the right state of mind. I loved coaching him and he was playing really well for us."
Julius Randle
Percentage
Bounces
Season
Team
GM
Minimum
Shots
3 points
LF
Off
Def
Early
pd
party
Int
bp
CT
Points
2014-15
ALL
1
14
33.3
0.0
0.0
0.0
0.0
0.0
0.0
1.0
0.0
1.0
0.0
2.0
2015-16
ALL
81
28
42.9
27.8
71.5
2.1
8.1
10.2
1.8
3.0
0.7
1.8
0.4
11.4
2016-17
ALL
74
29
48.8
27.0
72.3
2.0
6.6
8.6
3.6
3.4
0.7
2.3
0.5
13.2
2017-18
ALL
82
27
55.8
22.2
71.8
2.2
5.8
8.0
2.6
3.3
0.5
2.6
0.6
16.1
2018-19
NOP
73
31
52.4
34.4
73.1
2.2
6.5
8.7
3.1
3.4
0.7
2.9
0.6
21.4
2019-20
NYK
64
33
46.0
27.7
73.3
2.4
7.4
9.7
3.1
2.8
0.8
3.0
0.3
19.5
2020-21
NYK
71
38
45.6
41.1
81.1
1.2
9.0
10.2
6.0
3.2
0.9
3.4
0.3
24.1
2021-22
NYK
48
35
41.3
30.6
75.6
1.7
8.2
9.9
5.0
2.8
0.8
3.5
0.6
18.5
Total
494
31
47.7
33.4
74.2
2.0
7.3
9.3
3.5
3.1
0.7
2.7
0.5
17.5