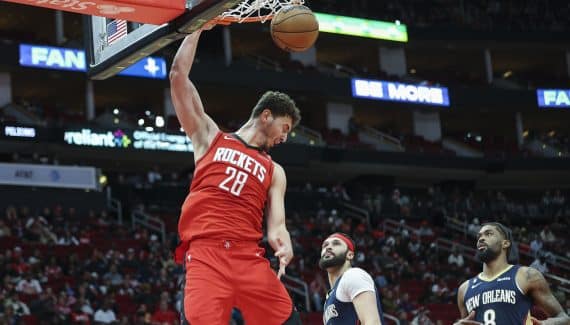 With the possible exception of Jalen Green, none of the young talents of Rockets seems to have greater future All-Star potential thanAlperen Sengun. For two seasons, the Turkish pivot of Houston is indeed a ray of sunshine in the grayness, with his technical game often compared to that of Nikola Jokic.
Now firmly established as the pivot of the future of the Texan club, and even as a future big name in the post, "Alpy", who is currently playing a pre-Olympic qualifying tournament with Turkey, does not hide it. : at the dawn of his third year, he thinks it's time for him to aim high.
Always so inspired by Nikola Jokic
" Of course, like all players I think, my goal is to become an All-Star. », thus declared for Eurohoops the 21-year-old pivot, who has been working on his outside shot and pick-and-roll defense this summer. " I hope to be able to achieve this goal. »
And if the continued progress of the pivot is beyond doubt, the most important thing will be the collective success in Houston, after three seasons without relief. If the victories pile up, the whole collective is sublimated… As in Denver, where the recent champions were led by another European pivot.
" Nikola Jokic took eight years to win a title ", concludes Alperen Sengun, certainly motivated and inspired by the "Joker". " Now we have a good situation in Houston. So I hope we will go to the playoffs. »
Alperen Sengun
Percentage
Bounces
Season
Team
GM
Minimum
Shots
3 points
LF
Off
Def
Early
pd
party
Int
bp
CT
Points
2021-22
HOO
72
21
47.4
24.8
71.1
1.9
3.5
5.5
2.6
3.0
0.8
2.0
0.9
9.6
2022-23
HOO
75
29
55.3
33.3
71.5
3.2
5.8
9.0
3.9
3.4
0.9
2.6
0.9
14.8
Total
147
25
52.2
27.6
71.3
2.6
4.7
7.3
3.2
3.2
0.9
2.3
0.9
12.3
How to read the stats? MJ = matches played; Min = Minutes; Shots = Shots made / Shots attempted; 3pts = 3-points / 3-points attempted; LF = free throws made / free throws attempted; Off = offensive rebound; Def= defensive rebound; Tot = Total bounces; Pd = assists; Fte: Personal fouls; Int = Intercepts; Bp = Lost bullets; Ct: Counters; Points = Points.