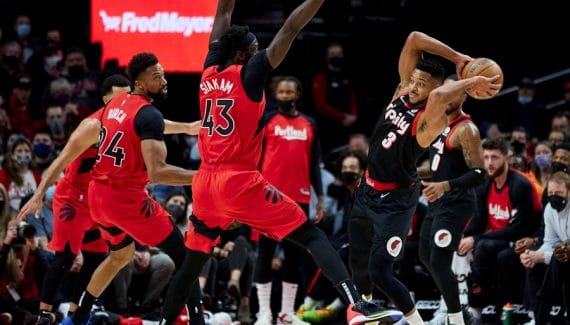 Because Toronto found itself at -30 at halftime after a disastrous start against Portland on Sunday, Nick Nurse racked his brains to try to reverse the trend. Already known for having released a box on Stephen Curry during the 2019 Finals, the Raptors coach therefore asked his players to apply all-terrain pressure, often used in Europe and the NCAA, a little less in the NBA or on short periods.
This has the advantage of slowing down the establishment of the opposing attack and putting pressure on the 24-second clock, but it also requires a great deal of energy and therefore a lot of rotation to maintain a level. high defensive intensity.
The bet almost worked, however, as Toronto came back to 101-105 in the last minute before conceding two 3-point missiles from Anfernee Simons which put an end to the hopes of a "comeback" of the locals.
"We have had occasion to use some of these principles in the past. I think it's a possible change of pace. This is something that generally concerns the "second unit". Maybe it's a change of pace you can do during a match. As a general rule, opposing teams will attack the racket faster to counter it. But in this game, (the Blazers) mostly tried to protect their large lead and were quite timid to counter it.
A viable option on short sequences
The objective is as much physical as psychological, because the all-terrain pressure also makes it possible to disrupt the course of the opposing attack and to push it to take hasty shots which, even open, can be destabilizing. And on this point too, Nick Nurse's plan worked rather well.
"These shots are difficult when you find yourself in a position of superiority, you are in a hurry and suddenly you find yourself alone in the corner and you wonder if you should take the shot or not. If you think like that, you're going to miss a lot. The only times they missed their shots was when we left them completely open", he pointed out.
The only concern for Toronto is that Nick Nurse would need a wider rotation to be able to maintain such long-term pressure as was the case on Sunday. Against the Blazers, the Raptors practically turned to eight players, Yuta Watanabe and Justin Champagnie having played only 2 and 8 minutes respectively.
Even if the "comeback" of the Raptors has been impressive, the advantage of Nick Nurse could therefore be used again, but for short periods.
"It's hard to press that way. In the NBA, guys are good." recognized Pascal Siakam, who still wants to keep the option. "We can sometimes put ourselves in this situation because we have the athletes to do it. We are always a team that likes to press and put the opposing team in difficulty".
Shots
Bounces
Players
GM
Minimum
Shots
3 points
LF
Off
Def
Early
pd
bp
Int
CT
party
Points
Fred Vanvleet
41
38.2
42.1
39.3
87.0
0.8
3.9
4.7
7.0
2.6
1.7
0.5
2.5
21.7
Pascal Siakam
31
36.6
48.0
33.0
72.0
2.0
6.3
8.3
4.9
2.6
1.2
0.7
3.5
21.2
Ogugua Anunoby
29
36.7
42.9
34.0
76.9
1.5
3.8
5.3
2.4
1.7
1.7
0.5
3.0
18.6
Gary Trent, Jr.
35
33.7
41.5
36.9
82.5
0.4
2.3
2.7
2.0
1.0
1.9
0.4
2.2
16.2
Scottie Barnes
37
35.4
46.9
30.6
72.0
2.8
5.0
7.8
3.4
1.9
1.0
0.9
2.9
14.6
chris butcher
42
19.9
45.2
27.8
75.0
2.2
3.7
6.0
0.3
0.7
0.7
1.0
2.0
9.3
Goran Dragic
5
17.9
38.2
28.6
100.0
0.4
2.4
2.8
1.8
0.2
1.0
0.2
1.6
8.0
Dj Wilson
3
15.9
72.7
0.0
80.0
0.3
4.3
4.7
1.3
0.7
1.7
0.3
1.7
8.0
Precious Achiuwa
35
25.0
41.2
23.3
57.1
2.3
5.2
7.5
1.2
1.0
0.6
0.6
2.2
7.8
Svi Mykhailiuk
38
16.9
40.8
31.5
84.4
0.5
1.8
2.3
1.1
0.7
0.6
0.1
1.2
5.9
Khem Birsh
23
21.0
49.5
0.0
73.8
2.7
2.5
5.2
1.2
0.7
0.8
0.5
1.7
5.8
Yuta Watanabe
19
17.0
38.4
34.5
58.3
0.7
2.7
3.4
0.8
0.7
0.4
0.5
1.4
5.7
Juwan Morgan
1
27.4
66.7
50.0
0.0
2.0
2.0
4.0
1.0
0.0
0.0
0.0
3.0
5.0
Tremont Waters
2
20.9
25.0
22.2
0.0
0.0
2.0
2.0
3.5
2.0
2.0
0.0
1.0
4.0
Dalano Banton
34
11.7
41.0
28.6
75.0
0.6
1.5
2.1
1.7
1.1
0.4
0.1
1.2
3.7
Daniel Oturu
3
9.1
50.0
0.0
60.0
0.3
1.3
1.7
0.0
0.0
0.0
0.7
0.3
3.0
Malachi Flynn
27
8.6
34.9
27.3
57.1
0.2
0.8
1.0
0.9
0.3
0.4
0.1
0.9
2.8
Justin Champagnie
27
8.9
47.5
40.9
100.0
1.3
0.9
2.3
0.3
0.2
0.3
0.1
1.1
2.7
isaac bonga
12
5.3
23.1
25.0
66.7
0.3
0.2
0.6
0.2
0.2
0.6
0.2
0.8
0.9
Sam Dekker
1
0.9
0.0
0.0
0.0
0.0
0.0
0.0
0.0
0.0
0.0
0.0
0.0
0.0
david johnson
2
1.0
0.0
0.0
0.0
0.0
0.0
0.0
0.0
0.0
0.0
0.0
0.0
0.0