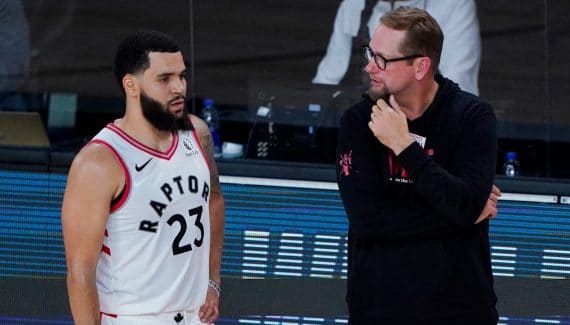 His name was circulating among the favorites to go to the All-Star Game, and the coaches of the East followed the trend by offering Fred VanVleet his first selection. Kyle Lowry gone, everyone wondered about the Raptor's ability to transform into a leader, through actions and attitude, and he responded.
"It fills a huge void due to the departure of certain leaders" testifies Nick Nurse. "For several years, veterans left. Many leaders have left. Kyle, one of the main leaders, is obviously gone. And Fred filled that big void, and the task was huge, and he did it brilliantly. "
At 27, Fred VanVleet also enters the very closed club of All-Stars players without having gone through the Draft. It's a rare feat since before him, there were only three in history to achieve it, and they are Brad Miller, John Starks and Ben Wallace. It hadn't even happened for 16 years!
Two other players went to the All-Star Game undrafted, Connie Hawkins and Moses Malone, but they hadn't started their NBA careers.
"I never wanted to be a public darling"
"I always said he had something unique" recalls Nick Nurse. "It's a unique level of competitiveness. It's a unique feeling for the game. It's a unique tenacity. It's things like that that stand out. I remember the first exercise in training. We're 20 yards from the circle, and he's got Kyle Lowry. For him, it was a way of saying, 'I have to be part of this team.' And it was from there that he began to prove it. "
For the person concerned, it is almost better to be chosen by the coaches because there is a form of recognition.
"I play for that, and I never wanted to be a crowd favourite. It's obvious that I respect and admire their passion, and the fans are a big part of what we do in this business. But I have always sought to be respected by my peers first, and then by the coaches. It would have been a little hard, given my season, not to be chosen by them, but… it clearly means a little more when it comes to them. "