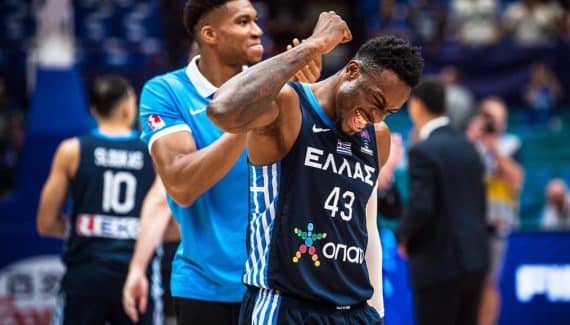 Greece achieved what Slovenia would have loved to do with Luka Doncic by resting their major player, Giannis Antetokounmpo, during the group stage.
Facing Great Britain, Dimitris Itoudis thus left the "Greek Freak" to rest alongside his brother Kostas, not yet 100% recovered. The primary objective was to rest the Bucks superstar…
"He is available and he will play", said the Greece coach about the next game. "He felt a little discomfort in his knee, nothing major. We didn't want to take any chances so we decided not to wear it today. I repeat, it has nothing to do with the respect we can have for our opponent, as you have seen, we fought. Yes, it will be available".
All good for Greece
It remains to be seen what is hidden behind the term "discomfort", especially for a joint as fragile as the knee. What is certain is that an extra day of rest can only be beneficial to him, and as there is an assistant for the Bucks in the Greek staff, this should not be very important.
By the way, Greece also proved to themselves that they could win without their jewel, with a 93-77 success against Great Britain.
"When we left Greece and we played our two qualifying matches for the World Cup, we recalled that we had not been able to have a single training session together because of injuries. There's no magic recipe for becoming a real team when everyone can't train together. We hoped that on this first round in Italy and then during the tournament, we would become a better team. This is what we have proven so far, even if we are still missing a player, Kostas Antetokounmpo, who will soon return with us."added Dimitris Itoudis.
For Greece, it is therefore the perfect evening. It only remains to beat Ukraine on Tuesday to secure first place in Group C.
Giannis Antetokounmpo
Percentage
Bounces
Season
Crew
GM
Minimum
Shots
3 points
LF
Off
Def
Early
pd
party
Int
bp
CT
Points
2013-14
MIL
77
25
41.4
34.7
68.3
1.0
3.4
4.4
2.0
2.3
0.8
1.6
0.8
6.8
2014-15
MIL
81
31
49.1
15.9
74.1
1.2
5.5
6.7
2.6
3.1
0.9
2.1
1.1
12.7
2015-16
MIL
80
35
50.6
25.7
72.4
1.4
6.2
7.7
4.3
3.2
1.2
2.6
1.4
16.9
2016-17
MIL
80
36
52.1
27.2
77.0
1.8
7.0
8.8
5.4
3.1
1.6
2.9
1.9
22.9
2017-18
MIL
75
37
52.9
30.7
76.0
2.1
8.0
10.0
4.8
3.1
1.5
3.0
1.4
26.9
2018-19

★

MIL
72
33
57.8
25.6
72.9
2.2
10.3
12.5
5.9
3.2
1.3
3.7
1.5
27.7
2019-20

★

MIL
63
30
55.3
30.4
63.3
2.2
11.4
13.6
5.6
3.1
1.0
3.7
1.1
29.5
2020-21
MIL
61
33
56.9
30.3
68.5
1.6
9.4
11.0
5.9
2.8
1.2
3.4
1.2
28.2
2021-22
MIL
67
33
55.3
29.3
72.2
2.0
9.6
11.6
5.8
3.2
1.1
3.3
1.4
29.9
Total
656
33
53.5
28.8
71.8
1.7
7.7
9.4
4.6
3.0
1.2
2.9
1.3
21.8