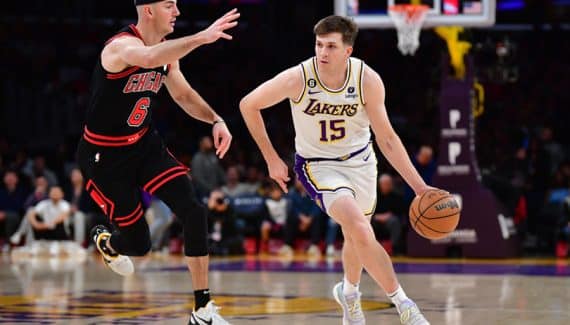 Hugely appreciated by Lakers fans, Austin Reaves is evolving at its best level in recent weeks. Undrafted in 2021, he immediately signed a "two-way contract" with the Lakers before convincing the Californian franchise to offer him a real contract. It must be said that he is invaluable on both sides of the field, and that he often manages to get the crowd of the Crypto.com Arena up.
Something to remind Lakers fans of another player who recently wore the "Purple & Gold" tunic. Some Alex CarusoNBA champion 2020, invited to give his opinion on the new darling of the public of Los Angeles.
"He is a very good player" recognizes Alex Caruso. "This is the world we live in. We live in a world of comparisons, and that's what it is. I'm sure he's in the same boat as me. He's probably thinking, 'I'm just trying to play and have a good career,' and he gets asked these kinds of comparison questions. It's part of the league. There are stupid things like that, and we move on.".
It is obviously because they are white guards and that they were not drafted before finally making their place alongside LeBron James that the two players are so often compared.
However, Alex Caruso and Austin Reaves do not have much to do. Neither in their game, nor in their career.
"He's a guy who has spent almost his entire career in the NBA" reminds Alex Caruso about Austin Reaves, who could have been drafted by Detroit in the second round in 2021, but who preferred to refuse the advances of the Pistons to engage via a "two-way contract" in Los Angeles. "I didn't get drafted, I went to the G-League for a year, I went to three Summer Leagues trying to get into a team, and even then I had to make efforts to get minutes and carve out a role".
Austin Reaves
Percentage
Bounces
Season
Crew
GM
Minimum
Shots
3 points
LF
Off
Def
Early
pd
party
Int
bp
CT
Points
2021-22
ALL
61
23
45.9
31.7
83.9
0.7
2.4
3.2
1.8
1.4
0.5
0.7
0.3
7.3
2022-23
ALL
56
28
51.2
37.8
86.1
0.6
2.5
3.0
3.1
1.7
0.6
1.5
0.3
12.3
Total
117
26
48.9
34.9
85.3
0.7
2.5
3.1
2.4
1.6
0.5
1.1
0.3
9.7