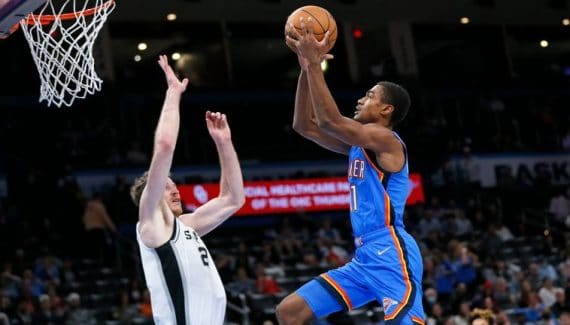 And if Theo Maledon kicked off his season for good? To be sure, we will have to wait for the All-Star Weekend to end, since the Thunder will not play again until next Thursday.
Still, the Frenchman has been on a good streak since the beginning of February, as evidenced by his successful 22-point match last night against Spurs. On arrival, OKC certainly bowed, but the main thing was elsewhere for the tricolor leader.
In the hard during his second year in the NBA (4.3 points on average, 32% on shots, in 14 minutes), to the point of accumulating "DNP" and having to go through the G-League box to find sensations , Théo Maledon does not manage for the moment to shine as he did during his rookie season (10.1 points on average, at 34% at 3-pts, in 27 minutes).
New context, new competition
It must be said that the Oklahoma franchise, eager to chain defeats at the end of the 2020/21 fiscal year for the Draft, is no longer so handicapped by injuries. And that, above all, Josh Giddey and Tre Mann arrived in the local "backcourt", overshadowing the 34th choice of the 2020 Draft.
But Théo Maledon has been able to find a place in Mark Daigneault's rotation for two weeks (19 minutes of play), thanks to the successive and cumulative absences of Shai Gilgeous-Alexander, Luguentz Dort and Aaron Wiggins. Alternating the good and the less good, the native of Rouen still struggles to show consistency and keep his foot on the accelerator in attack, unlike some of his teammates.
But this Wednesday, against San Antonio, the Frenchman played as he had to and as he should: with aggression.
" I thought he played at the right speed, at the right pace. He did not stop attacking and being very aggressive throughout the evening. That's how he gotta play every time, gotta pick up the tempo, he need it ", judged in this regard his coach, Mark Daigneault.
Continue to attack and over-attack
Beyond his 6/14 on shots and his 2/5 at 3-pts, it is Théo Maledon's 8/9 on free throws that appeals the most in the line of stats of the former player of ASVEL. Proof of his ability to activate "scorer mode" whenever he wishes. What the Thunder expects from him, coming off the bench.
And the 20-year-old point guard's move to the G-League, who averaged 22.0 points, 4.7 rebounds and 5.8 assists (56% on shots and 40% at 3-pts), may not be. alien to his renewed form…
" I have the feeling that [la G-League] above all allows you to acquire good habits, to repeat things over and over again or to regain sensations, because sitting on the bench for a long time can be complicated ", estimated Tre Mann, one of the two flagship rookies of Oklahoma City, who knows how to seize his chance offensively.
In confidence, Théo Maledon also allowed himself to succeed in a terrible "chasedown block" on Dejounte Murray, in the second quarter. Because his performance, full of energy, was as successful in attack as in defense.
An observation that could perfectly apply to Aleksej Pokusevski, the other "sophomore" of OKC who does not manage to regain his level of last season, but who slowly climbs the slope in February…
" [Théo Maledon] was huge for us, the same for Aleksej Pokusevski. When they play with such confidence, they leave a great impression on the court ", confided about them Josh Giddey, who continues to make history in recent weeks.
Theo Maledon
Percentage
Bounces
Season
Team
GM
Minimum
Shots
3 points
LF
Off
Def
Early
pd
party
Int
bp
CT
Points
2020-21
OKAY
65
27
36.8
33.5
74.8
0.4
2.9
3.3
3.5
1.9
0.9
2.2
0.2
10.1
2021-22
OKAY
30
14
30.4
21.7
84.8
0.3
1.3
1.6
1.1
1.0
0.4
0.9
0.1
3.7
Total
95
23
35.8
31.6
76.8
0.4
2.4
2.7
2.8
1.7
0.7
1.8
0.2
8.1