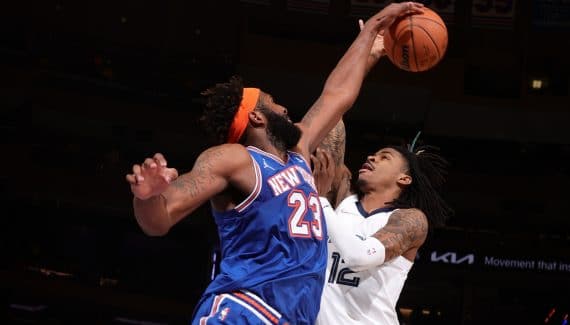 With 14 points (7/8), 11 rebounds and… 8 blocks last night in New York's loss to Memphis, Mitchell Robinson achieved his best individual performance of the season. Two blocks from a triple-double (with only one assist), the Knicks pivot shone in the protection of the racquet.
And if the Grizzlies imposed themselves quite easily, "Mitch" can boast of having greatly annoyed Ja Morant, who tried to post him but still got a little confused in his selection of shots (9 /27) facing the deterrence of the pivot in front of his circle.
" I knew they were the best team in the league in points scored in the key. So it was my job to protect the circle" he explained to the New York Post after the meeting. " It was quite a challenge [face à Steven Adams], but I think I did pretty well."
Finally free from injuries
Long unavailable last year due to a broken foot (41 games missed), Mitchell Robinson (only 23) is in good health this season and manages to string together matches without too many interruptions: he took part in 47 of the 52 meetings of the Knicks season, the five absences being linked to his confinement in December.
Although he considers that he is not yet at the maximum of his physical capacities, especially from the point of view of cardio, he nevertheless admits that he is on the right track: " There's still a bit of work to do, but I'm getting close, I'm really close. I honestly think I can play a good 40 minutes. Once I'm in really good physical condition, I'm going to do some damage.".
Already the 5th blocker in Knicks history
" The key is that he's in good shape judged RJ Barrett. " We observe a guy who is in rhythm. He is such an asset on both sides of the pitch. Eight counters! It's amazing, and all those offensive rebounds… Sometimes I take my shots without questioning because I know he'll get the rebounds if I miss."
In the fourth and final year of his rookie contract, and already the 5th blocker in Knicks history, the 36th pick in the 2018 draft is eligible for an extension with the Knicks at the end of the season. A "non-protected" free agent, he will be able to sign wherever he sees fit next summer, without New York being able to match external offers.
https://www.youtube.com/watch?v=EMOCsJowNkc
Mitchell Robinson
Percentage
Bounces
Season
Team
GM
Minimum
Shots
3 points
LF
Off
Def
Early
pd
party
Int
bp
CT
Points
2018-19
NYK
66
21
69.4
0.0
60.0
2.7
3.7
6.4
0.6
3.3
0.8
0.5
2.4
7.4
2019-20
NYK
61
23
74.2
0.0
56.8
3.1
4.0
7.0
0.6
3.2
0.9
0.6
2.0
9.7
2020-21
NYK
31
28
65.3
0.0
49.1
3.7
4.5
8.1
0.6
2.8
1.1
0.8
1.5
8.3
2021-22
NYK
46
25
78.5
0.0
52.5
3.6
4.8
8.4
0.5
2.7
0.5
0.8
1.5
8.4
Total
204
23
72.2
0.0
55.7
3.1
4.2
7.3
0.5
3.0
0.8
0.7
1.9
8.4