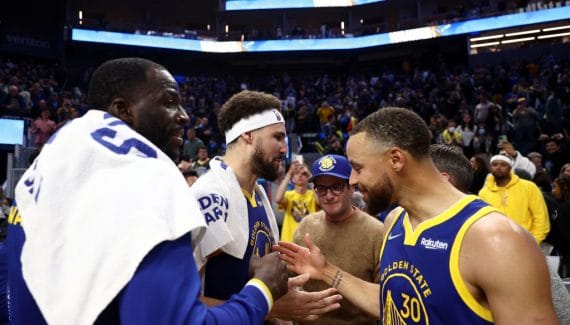 June 14, 2019. We are at the heart of the Finals between the Raptors and the Warriors. Kobe Bryant is still alive, Ja Morant has not yet played in the NBA, Russia has not invaded Ukraine and the Covid has not yet appeared. It was the world before, and it was the last time we met Klay Thompson, Stephen Curry and Draymond Green on a field. On June 14, 2019, Thompson tore a ligament in his knee, and the "Big Three" of Golden State did not know that he was going to wait 1,005 days to find himself on the ground!
The wait ended tonight, against the Wizards, with the return of Draymond Green from injury. Sixth man, the former top defenseman of the year made Green with 6 points, 7 rebounds and 7 assists in just 20 minutes.
"It's crazy to think that this is the first time in a very, very, very long time that Klay, Draymond and I have been on the court together" points out Curry. "We want to continue to build on that. We know each other like the back of our hand, and we complement each other so well, and there's a lot of trust in that. "
Proof of his impact, Green finished with the best +/- of the match: +24. Other proof of its impact? The 47 points of Stephen Curry, who we had not seen so dashing for a very long time.
From players to coaches to managers, Green makes others better
" 100% ! " Steve Kerr responds when asked if Curry's performance is related to Green's return. "He makes us better. He makes me a better coach. He makes our players better. It makes Bob Myers a better GM and Joe Lacob a better owner."
Same enthusiasm for Klay Thompson, who had not played with him for almost three years. " He creates open shots for us. He puts us in rhythm in attack. He gets us going. He speeds things up".
On the side of Green, sixth man, we have become reasonable. No question of rushing things, and he gladly accepts this role of 6th man and this very limited playing time.
" Usually I am against any restrictions. I hate that. Each time I had to face it, I fought with the coach or the president. But this time, I'm very much in favor of it. I know I need it. I know I need to protect myself from myself. "
For now, Green is expected to stay in that role, and Kerr explained his goal is to have his inside out on the pitch at the end of each half.
Draymond Green
Percentage
Bounces
Season
Team
GM
Minimum
Shots
3 points
LF
Off
Def
Early
pd
party
Int
bp
CT
Points
2012-13
GOS
79
13
32.7
20.9
81.8
0.7
2.6
3.3
0.7
2.0
0.5
0.7
0.3
2.9
2013-14
GOS
82
22
40.7
33.3
66.7
1.1
3.9
5.0
1.9
2.8
1.2
1.1
0.9
6.2
2014-15
GOS
79
32
44.3
33.7
66.0
1.4
6.8
8.2
3.7
3.2
1.6
1.7
1.3
11.7
2015-16
GOS
81
35
49.0
38.8
69.6
1.7
7.8
9.5
7.4
3.0
1.5
3.2
1.4
14.0
2016-17
GOS
76
33
41.8
30.8
70.9
1.3
6.6
7.9
7.0
2.9
2.0
2.4
1.4
10.2
2017-18
GOS
70
33
45.4
30.1
77.5
1.1
6.6
7.6
7.3
2.6
1.4
2.9
1.3
11.0
2018-19
GOS
66
31
44.5
28.5
69.2
0.9
6.4
7.3
6.9
3.0
1.4
2.6
1.1
7.4
2019-20
GOS
43
28
38.9
27.9
75.9
0.5
5.7
6.2
6.2
2.6
1.4
2.3
0.8
8.0
2020-21
GOS
63
32
44.7
27.0
79.5
0.9
6.3
7.1
8.9
3.1
1.7
3.0
0.8
7.1
2021-22
GOS
34
30
53.7
28.6
59.7
1.1
6.4
7.6
7.4
2.8
1.4
3.1
1.2
7.9
Total
673
29
44.0
31.5
71.0
1.1
5.8
6.9
5.4
2.8
1.4
2.2
1.0
8.7