Basketball News
After failed debut, Dwane Casey wants Killian Hayes to build on his physique | NBA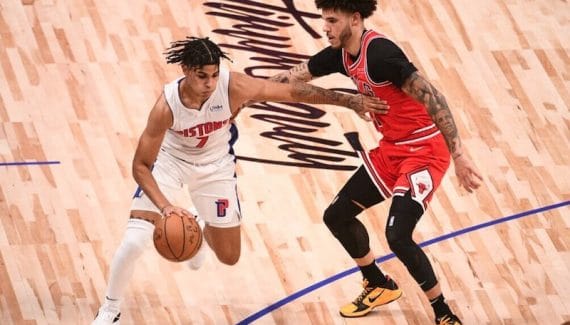 His first shot, after successfully blasting Lonzo Ball? "In-and-out". For his recovery against the Bulls, Kilian Hayes displayed good intentions in attack. Unfortunately for his team in him, he did not convert any of his shots (0/6), nor get passage on the free throw line.
For his first outing of the year, the titular leader of the Pistons had to be content with 5 rebounds captured and 2 assists, for as many lost balls. To the point of having to be deprived of a fourth quarter. Not ideal for the "sophomore" who intends to launch his NBA career for good.
The Frenchman may be in his second year, after a first season shattered by injuries with only 26 games played, his coach continues to speak of him as a rookie.
" A rookie playmaker in this league is like a rookie quarterback in the NFL, compares Dwane Casey, for The Athletic. You've got a bunch of stuff going through your mind. Our mission is to develop it and make it grow. He will experience difficult times but in the end, this work will pay off. "
In this match against the Bulls, the 7th choice of the 2020 Draft tried several times to attack the circle. He did not follow his ideas by going in contact with the defender, preferring for example to bypass the arms of Nikola Vucevic before narrowly missing his lay-up.
"The excuse of being 19 or 20 must be put aside"
His coach believes, however, that he has the physique (1m96 and more than 90 kilos) to go to rub shoulders with the opposing defense. " At some point the excuse of being 19 or 20 has to be put aside because he's a tall, beefy boy. "Judge Dwane Casey, even comparing him to his teammate Saddiq Bey.
" He is in excellent physical condition ", continues the coach about the French. "He has to use it when he gets in. This is the next step in his progression. […] Use his shoulder, create contact with the opponent and finish. He worked on it today. He works there every day. We have to translate it into a match. "
Last year, he very rarely invited himself to the free throw line with less than one attempt on average, and never more than two in each of his matches. Going to this line more often, where he shook a little (82%), would be a good way to compensate for an evening without in terms of skill in the game.
Patience remains in order for Killian Hayes who only played there his 27th game in the big league. " It's easy to pin a rookie and watch all their mistakes ", continues his coach. "It's my job. I'm sure the fans think he can't do this or that. […] He must continue to face difficulties in order to grow. We must continue to work with it and develop it. Give him confidence and not pin all aspects of his game. You can do that with all rookies. "
Killian Hayes
Percentage
Rebounds
Season
Team
MJ
Min
Shots
3pts
LF
Off
Def
Early
Pd
Fte
Int
Bp
Ct
Pts
2020-21
DET
26
26
35.3
27.8
82.4
0.2
2.4
2.7
5.3
2.2
1.0
3.2
0.4
6.8
2021-22
DET
24
26
34.0
31.9
92.0
0.5
2.8
3.3
3.7
2.6
1.1
1.5
0.5
6.4
Total
50
26
34.7
29.8
88.1
0.4
2.6
3.0
4.5
2.4
1.1
2.4
0.4
6.6