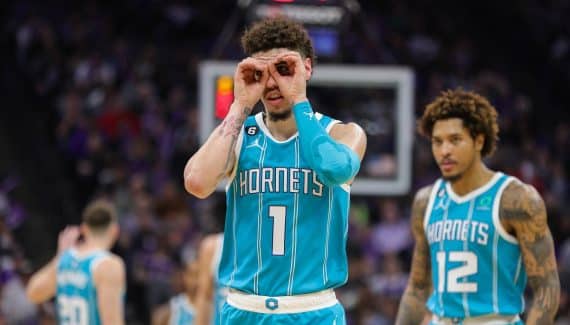 While the Wizards are currently on ten consecutive defeats and are still waiting for a victory, the Hornets have finally been able to breathe during their trip to Sacramento.
Charlotte snatched a success in the last minutes, including 16 points from LaMelo Ball in the last quarter. A victory that breaks a long black series of eight straight losses.
"To have this victory, it feels good", throws LaMelo Ball for the Charlotte Observer. "It's clearly an important victory. One success can turn into two, then three. So getting that first win is fun. »
We can imagine it because the Hornets had not won for almost three weeks (December 2) and the last away victory was on November 14!
"You could say that the guys were happy in the locker room, it's nice to win like that," continues Steve Clifford. "That is to say to win away against a good team, winning the last quarter. We were decisive, we did some good defence. Winning for good reasons always helps. »
Especially since, in addition to the losses that were accumulating, the atmosphere was gloomy after the defeat against the Nuggets. Because the Hornets had just lost Terry Rozier, hit in the hip in the first half and who did not play against the Kings.
Half a match with the full squad…
One more injury in the long list of those that have marred the franchise season, because as soon as a player leaves the infirmary, another enters it. The proof: this game in Denver was the first of the season where Steve Clifford had his full group (apart from Miles Bridges). For just a few minutes…
"I spoke to the players because when Rozier got injured, at the break, it was one of the first times I saw the bench and the players being affected", says the coach. "I spoke to the staff and the players about it. It's part of the league and you have to be able to face it. The returns of LaMelo Ball and Gordon Hayward make us stronger. They have to find the rhythm, but it changes a lot of things for us. »
With only eight wins since the start of the season and 14th place in the Eastern Conference, can the Hornets still save their 2022/2023 exercise? It's badly embarked, but if injuries spare the team, it's possible according to Steve Clifford.
"There is one thing you can't do is lie to NBA players," announces the coach. "They know where they are. We can tell them things honestly and transparently. If we look, we have played a lot of matches without certain players. We are not going to win all the close matches, but our efforts have been good. We still have to improve. »
Shots
Bounces
Players
GM
Minimum
Shots
3 points
LF
Off
Def
Early
pd
bp
Int
CT
party
Points
Lamelo Ball
6
33.5
45.5
38.8
86.7
0.2
3.0
3.2
6.7
2.7
0.8
0.3
3.0
23.2
terry rozier
22
36.0
39.6
31.4
83.1
1.1
3.4
4.5
5.5
2.5
0.7
0.2
2.1
20.9
Kelly Oubre, Jr.
30
33.2
42.6
31.9
71.4
1.5
3.7
5.2
1.2
1.1
1.7
0.4
3.0
20.7
Gordon Hayward
13
32.2
44.0
38.0
74.5
0.8
3.8
4.6
4.4
2.5
0.7
0.3
1.2
15.6
Pj Washington
29
31.9
40.9
31.9
78.3
1.0
3.7
4.8
2.3
1.6
0.8
1.0
2.6
14.8
Jalen Mcdaniels
30
26.5
45.8
35.6
88.9
0.9
3.8
4.6
2.3
1.3
1.0
0.5
3.1
10.8
mason plumlee
30
27.6
59.2
0.0
57.9
3.4
6.1
9.5
4.0
1.8
0.6
0.6
3.4
9.6
Dennis Smith
15
27.9
46.3
33.3
50.0
0.6
2.7
3.3
5.7
1.5
1.8
0.7
2.3
9.3
Nick Richards
30
19.1
60.5
0.0
73.9
3.0
3.5
6.5
0.6
0.9
0.1
0.9
2.3
9.0
Theo Maledon
28
16.6
42.3
35.4
92.1
0.3
2.3
2.5
2.4
1.1
0.7
0.2
1.0
5.6
james bouknight
22
15.3
33.3
24.6
68.2
0.2
1.9
2.1
1.2
0.8
0.5
0.2
1.3
4.9
Bryce McGowens
13
14.3
40.0
37.5
91.7
0.2
1.2
1.4
1.0
0.5
0.3
0.3
0.5
4.1
mark williams
3
4.3
57.1
0.0
100.0
1.3
1.3
2.7
0.0
0.7
0.0
0.0
1.0
3.7
Kai Jones
21
10.2
49.1
27.3
72.7
0.9
1.4
2.3
0.2
0.4
0.2
0.5
1.4
3.0
Jt Thor
19
9.9
30.6
18.5
81.8
0.5
1.3
1.7
0.5
0.6
0.3
0.3
0.6
2.3
Cody Martin
1
0.9
0.0
0.0
0.0
0.0
0.0
0.0
0.0
0.0
0.0
0.0
0.0
0.0