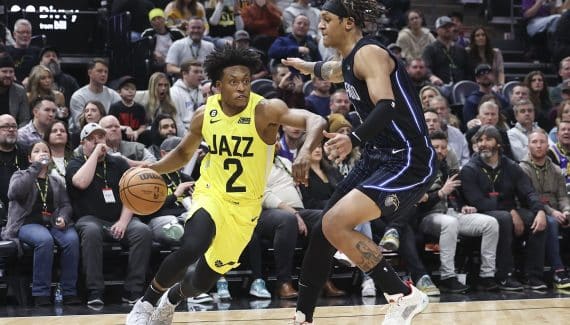 Fifty-nine matches. It's the total meager played by Collin Sexton for two seasons. His last with Cleveland, in 2021/2022, lasted only eleven games, following a torn meniscus in his left knee. Then last season, his first with Utah, he only played 48 games, plagued in particular by a hamstring problem.
The player, who is not yet 25, has therefore spent his summer getting back into physical shape, to finally relive a full season.
"I want to show that I am back and 100% healthy"he announces to The Athletic. "Each season is important to me, so I don't want to put too much pressure on myself from that point of view. I'm my biggest critic, I always have high expectations of myself. »
Establish yourself in a leadership role
Back at the Cavaliers, Collin Sexton moved to the position of playmaker in Utah. A very different role when the latter is especially very good when it comes to setting the pace, attacking a defense and penetrating. And a little less when it is necessary to lead a team.
"I've watched a lot of videos this summer, I want to be able to settle into that playmaking role. I want to demonstrate that I can take control. When it comes to making the right choice, I know I can do it. I just have to play and do it. »
With the arrival of John Collins and the interesting dynamics of last season (37 victories when we thought the Jazz left for a difficult year), the Salt Lake City franchise will be ambitious for the start of the school year. Just like Collin Sexton.
"We can really be very good because we have a lot of talent. Everyone must adhere to a common goal: to win. Basically, that's what it's all about. If we win, everything else will follow and everyone will benefit. We have to see things that way when we arrive at training camp and start the season. »
Collin Sexton
Percentage
Bounces
Season
Team
GM
Minimum
Shots
3 points
LF
Off
Def
Early
pd
party
Int
bp
CT
Points
How to read the stats? MJ = matches played; Min = Minutes; Shots = Shots made / Shots attempted; 3pts = 3-points / 3-points attempted; LF = free throws made / free throws attempted; Off = offensive rebound; Def= defensive rebound; Tot = Total bounces; Pd = assists; Fte: Personal fouls; Int = Intercepts; Bp = Lost bullets; Ct: Counters; Points = Points.