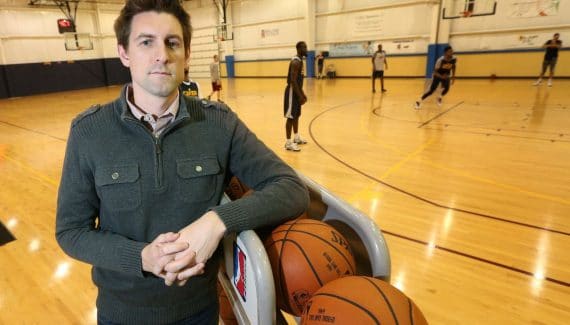 At the Cavs, we take advantage of the All-Star Break to continue to modify the organization chart of the franchise.
In the space of two months, coach JB Bickerstaff has been extended on the Cleveland bench until 2027, while former GM Koby Altman has become president of the Cavaliers until 2028.
And it's the turn of Mike Gansey, former player with a fleeting professional career in the D-League and in Europe (2007-2011), to be rewarded for his good work in recent years.
Assistant GM of the Cavs so far, he has actually just been promoted to GM of the Ohio franchise. Aged 39, he notably played a role in the selections of Darius Garland (2019) and Evan Mobley (2021) in the Draft, but also in the transfers of Jarrett Allen (2021) and Caris LeVert (2022).
Present in the Cleveland offices since 2011, and originally from Ohio, Mike Gansey will therefore continue to operate under the orders of Koby Altman, after having shone as GM of the Canton Charge, the G-League team affiliated with the Cavaliers. Winning, thus, the title of "Leader of the year" at the lower level, in 2018.
Shots
Bounces
Players
GM
Minimum
Shots
3 points
LF
Off
Def
Early
pd
bp
Int
CT
party
Points
Darius Garland
47
34.6
47.7
37.8
91.1
0.5
2.8
3.3
8.0
3.7
1.2
0.1
1.7
20.3
Jarrett Allen
50
32.6
66.6
10.0
70.2
3.6
7.4
11.0
1.8
1.8
0.7
1.3
1.8
16.2
Collin Sexton
11
28.8
45.0
24.4
74.4
1.2
2.1
3.3
2.1
2.8
0.9
0.0
2.3
16.0
Evan Mobley
50
34.1
50.3
26.5
67.2
1.9
6.2
8.1
2.6
2.0
0.8
1.6
2.0
14.9
Kevin Love
50
22.3
42.6
39.3
85.4
1.2
6.2
7.3
2.1
1.3
0.3
0.2
1.2
14.3
Lauri Markkanen
38
30.2
43.6
34.2
86.3
1.1
4.2
5.3
1.5
0.8
0.8
0.6
1.8
13.6
Caris Levert
4
31.0
39.7
28.6
75.0
0.2
1.2
1.5
3.8
1.5
1.5
0.2
1.8
13.2
Ricky Rubio
35
28.3
36.0
33.5
85.4
0.4
3.7
4.1
6.6
2.7
1.4
0.2
2.2
12.9
Cedi Osman
46
23.0
42.0
35.6
64.0
0.4
1.9
2.3
2.0
0.9
0.9
0.2
1.9
10.8
isaac okoro
43
28.8
46.4
31.6
77.8
1.0
2.1
3.1
1.9
1.0
0.8
0.3
2.6
9.0
Malik Newman
1
7.7
60.0
0.0
100.0
0.0
1.0
1.0
1.0
1.0
0.0
0.0
0.0
8.0
Rajon Rondo
13
21.4
40.3
36.6
84.2
0.2
3.2
3.5
4.7
1.7
1.1
0.0
1.5
7.2
Dean Wade
43
19.3
46.2
37.6
63.0
0.7
2.5
3.1
1.2
0.4
0.6
0.1
1.7
5.5
Brandon Goodwin
16
15.9
38.8
37.5
50.0
0.4
1.9
2.4
3.1
1.1
1.0
0.0
1.4
5.3
lamar stevens
41
14.3
47.5
29.5
62.5
0.7
1.5
2.2
0.6
0.5
0.5
0.2
1.4
5.0
justin anderson
3
15.5
50.0
33.3
75.0
0.0
2.0
2.0
2.0
0.7
0.3
0.0
1.3
4.3
Tre Scott
2
5.7
50.0
0.0
0.0
0.5
0.5
1.0
0.0
0.0
0.5
0.5
1.0
3.0
Denzel Valentine
22
9.3
37.1
40.9
0.0
0.4
1.3
1.7
0.5
0.5
0.3
0.0
0.8
2.9
Dylan Windler
37
9.3
42.9
38.9
77.8
0.4
1.3
1.7
0.7
0.4
0.2
0.1
1.0
2.5
Luke Kornet
2
7.4
20.0
0.0
66.7
1.0
0.5
1.5
0.5
0.0
0.0
0.5
0.5
2.0
Kevin Pangos
24
6.9
32.6
23.1
75.0
0.1
0.4
0.5
1.2
0.3
0.1
0.0
0.5
1.6
Rj Nembhard
7
6.2
45.5
0.0
50.0
0.0
0.3
0.3
1.4
0.3
0.0
0.0
0.3
1.6
Ed Davis
19
7.5
64.3
0.0
37.5
0.4
1.9
2.3
0.3
0.3
0.2
0.4
1.4
1.1
Tacko Fall
11
5.3
41.7
0.0
28.6
0.6
1.5
2.1
0.2
0.3
0.0
0.5
0.3
1.1