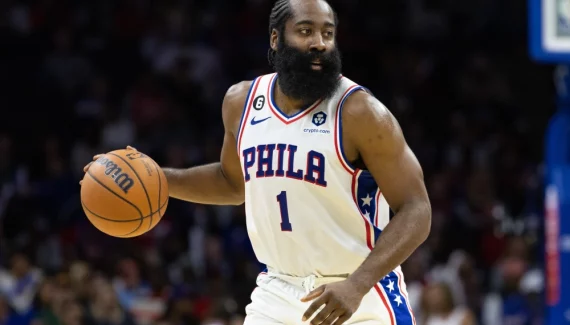 While they already have to juggle the absences of Joel Embiid, sick, the Sixers now have to deal with the injury of James Hardentheir second best player.
ESPN reports as well as the 2018 MVP, victim of a tendon strain in his right foot, will (likely) miss a month of competition.
An announcement that obviously sounds like a blow for the men of Doc Rivers, authors of a mixed start to the season (only four wins in nine games), and who will have to reorganize around Joel Embiid, Tyrese Maxey or Tobias Harris, to "forget" James Harden's 22 points, 7 rebounds and 10 assists average.
Especially since the upcoming calendar will be far from easy for Philadelphia…
James Harden
Percentage
Bounces
Season
Crew
GM
Minimum
Shots
3 points
LF
Off
Def
Early
pd
party
Int
bp
CT
Points
2009-10
OKAY
76
23
40.3
37.5
80.8
0.6
2.6
3.2
1.8
2.6
1.1
1.4
0.3
9.9
2010-11
OKAY
82
27
43.6
34.9
84.3
0.5
2.6
3.1
2.2
2.5
1.1
1.3
0.3
12.2
2011-12
OKAY
62
31
49.1
39.0
84.6
0.5
3.6
4.1
3.7
2.4
1.0
2.2
0.2
16.8
2012-13
HOO
78
38
43.8
36.8
85.1
0.8
4.1
4.9
5.8
2.3
1.8
3.8
0.5
25.9
2013-14
HOO
73
38
45.6
36.6
86.6
0.8
3.9
4.7
6.1
2.4
1.6
3.6
0.4
25.4
2014-15
HOO
81
37
44.0
37.5
86.8
0.9
4.7
5.7
7.0
2.6
1.9
4.0
0.7
27.4
2015-16
HOO
82
38
43.9
35.9
86.0
0.8
5.3
6.1
7.5
2.8
1.7
4.6
0.6
29.0
2016-17
HOO
81
36
44.0
34.7
84.7
1.2
7.0
8.1
11.2
2.7
1.5
5.7
0.5
29.1
2017-18

★

HOO
72
35
44.9
36.7
85.8
0.6
4.8
5.4
8.8
2.4
1.8
4.4
0.7
30.4
2018-19
HOO
78
37
44.2
36.8
87.9
0.9
5.8
6.6
7.5
3.1
2.0
5.0
0.7
36.1
2019-20
HOO
68
37
44.4
35.5
86.5
1.0
5.5
6.6
7.5
3.3
1.8
4.5
0.9
34.3
2020-21 *
All Teams
44
37
46.6
36.2
86.1
0.8
7.1
7.9
10.8
2.3
1.2
4.0
0.8
24.6
2020-21 *
BRK
36
37
47.1
36.6
85.6
0.8
7.7
8.5
10.9
2.4
1.3
4.0
0.8
24.6
2020-21 *
HOO
8
36
44.4
34.7
88.3
0.6
4.5
5.1
10.4
1.8
0.9
4.3
0.8
24.8
2021-22 *
All Teams
65
37
41.0
33.0
87.7
0.9
6.9
7.7
10.3
2.4
1.3
4.4
0.6
22.0
2021-22 *
BRK
44
37
41.4
33.2
86.9
1.0
7.0
8.0
10.2
2.4
1.3
4.8
0.7
22.5
2021-22 *
PHL
21
38
40.2
32.6
89.2
0.6
6.5
7.1
10.5
2.3
1.2
3.4
0.2
21.1
2022-23
PHL
8
37
44.0
32.7
94.0
0.6
6.6
7.3
10.0
2.0
1.1
2.9
0.8
21.8
Total
950
35
44.2
36.1
86.0
0.8
4.9
5.6
6.8
2.6
1.5
3.8
0.6
24.9