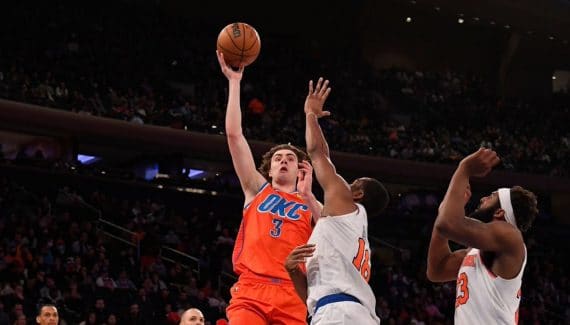 Madison Square Garden remains the favored stage for NBA superstars, and every rookie has butterflies in their stomachs at the thought of playing in the mecca of basketball.
" Ever since I got drafted, this is the most exciting place I've wanted to play" confirm Josh Giddey. "We hear so many things about this room, there are so many stories about the Garden, that I had checked off this date a long time ago.
Best rookie in the Western Conference this season with already three Rookie Of The Month trophies, the Australian will not soon forget his first on the floor of the Knicks since he participated greatly in the victory of the Thunder (127-123) . After overtime to prolong the pleasure, and he squarely signs his best game of the season with 28 points (personal best), 12 assists and 11 rebounds. It's his second straight triple-double, and he's the youngest player in history to achieve such a feat.
"He causes a domino effect on the team by his way of play and his state of mind"
At 19, this is his third career triple-double, and no one had done so well at that age. He is also the first foreign player to achieve a triple-double for his first at the Garden.
"Everything happened as I had imagined" he continues. "The fans are amazing. They are in the match, in a packed room. It was exactly as I had seen it on television, and as I had been told".
Josh Giddey sliced ​​through the New York defense in his unique style, and he proved he could also be aggressive towards the circle and adroit from distance. A full match while running the shop.
"His style of play is contagious" appreciates Mark Daigneault. "I think he has a domino effect on the team with his way of playing and his state of mind. I thought that was the case against Chicago, and it was again tonight. "
Josh Giddey
Percentage
Bounces
Season
Team
GM
Minimum
Shots
3 points
LF
Off
Def
Early
pd
party
Int
bp
CT
Points
2021-22
OKAY
51
31
41.5
25.7
72.2
1.8
5.9
7.7
6.2
1.7
0.9
3.1
0.4
12.0
Total
51
31
41.5
25.7
72.2
1.8
5.9
7.7
6.2
1.7
0.9
3.1
0.4
12.0