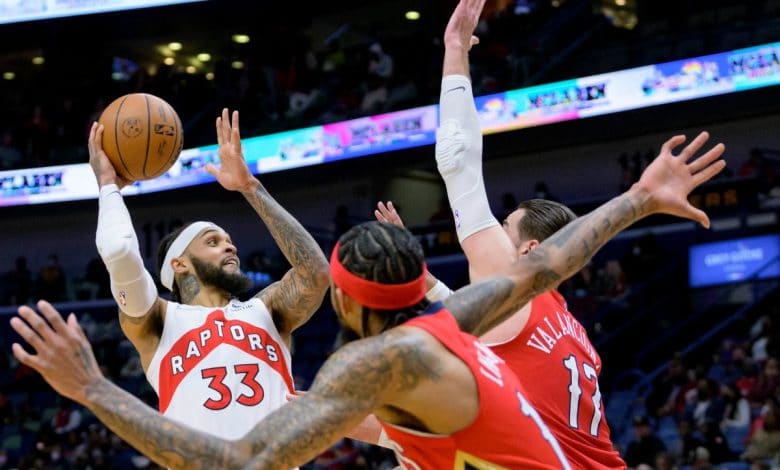 NEW ORLEANS — CJ McCollum had 23 points as the New Orleans Pelicans crushed the Toronto Raptors 120-90 on Monday.
Acquired from the Blazers last week, McCollum was 5-for-8 on three-point shooting.
Jonas Valanciunas backed him up with 18 points and 9 rebounds.
Fred VanVleet had 20 points for the Raptors, who were beginning a five-game road trip.
Pascal Siakam added 18 points and Chris Boucher provided 15 points, including 9 from free throws.
Scottie Barnes struggled with a 2-for-10 performance in continuous play.
He was limited to five points, two more than starting player OG Anunoby.
Gary Trent also had a night to forget, with six points. In 15 shots, he only hit twice.
Shots from beyond the perimeter weighed heavily in the balance: Toronto was 8 for 34 in that regard, crowd favorites 16 for 36.
The Raptors next stop will be Minnesota on Wednesday.
Toronto (31-25) remained in seventh place in the East, a game and a half ahead of the Brooklyn Nets. Nick Nurse's group lost a second game in a row, after eight straight wins. The team had won five times in a row abroad.
Obtained from Spurs last Thursday, Thaddeus Young made his debut with the Raptors. In 12 minutes, he had four points and four rebounds.
The Pelicans are battling for 10th place in the West.
The Raptors didn't threaten after a 12-0 streak from the Pelicans, overlapping the first and second quarters. After that, the Pelicans led 34-17.
Prior to that flurry, the visitors had picked up nine straight points including seven from VanVleet, to cut the Pelicans' lead to 22-17.
Elsewhere in the NBA
Pistons 94 – Wizarda 103
DET: 24 points for Saddiq Bey in defeat.
WAS: Kyle Kuzma played nearly 38 minutes en route to scoring 23 points.
Kings 85 – Nets 109
SAC: De'Aaron Fox was the only Kings starter to score more than 10 points. He collected 26.
BRK: In his first game with his new team, Seth Curry led the team with 23 points. End of the Nets' 11-game losing streak.
Thunder 127 – Knicks 123 (Overtime)
OKC: Spectacular hat-trick of 28 points, 11 rebounds and 12 assists for rookie Josh Giddey. Luguentz Dort did not take part in the meeting.
NY: Julius Randle also scored a hat-trick with 30 points, 13 rebounds and 11 assists.
Spurs 109 – Bulls 120
SA: Dejounte Murray had 19 points and added 11 assists in the loss.
CHI: Eastern Conference Player of the Final Week DeMar DeRozan had 16 of 24 shot attempts en route to a 40-point performance.
Trail Blazers 122 – Bucks 107
Trail Blazers 122 – Bucks 107
POR: 31 points for Anfernee Simmons. Doubled 23 points and 16 rebounds for Jusuf Nurkic.
MIL: In the absence of Giannis Antetokounmpo, Jrue Holiday was the best of his team with 23 points.
Magic 111 – Nuggets 121
ENT: Franz Wagner and Wendell Carter obtained 26 and 25 points respectively
DEN: Nikola Jokic was dominant with 26 points, 15 rebounds and 7 assists
Rockets 101 – Jazz 135
HOU: Kenyon Martin had 16 points, Jae'Sean Tate and Eric Gordon 14 each
UTA: 30 points, 6 rebounds and 7 assists for Donovan Mitchell
Warriors 104 – Clippers 119
GS: 33 points, 2 rebounds and 2 assists for Stephen Curry
LAC: 25 points, 7 rebounds and 6 assists for Terance Mann