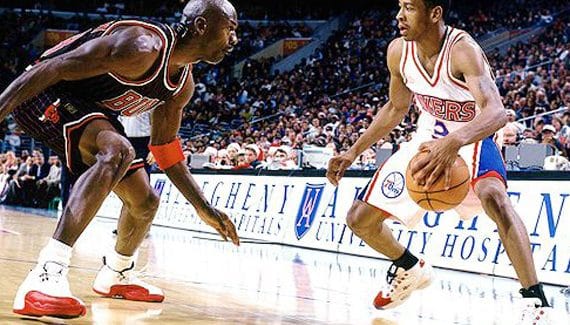 It's been a must in the highlights for 23 years now. One of those essentials that go round and round season after season. On March 12, 1997, Michael Jordan's Bulls moved to Philadelphia to face the Sixers of a young talent, Allen Iverson.
The rookie is quite a phenomenon. A particularly greedy scorer despite his small size and above all a formidable dribbler. The action has been seen and reviewed thousands of times. In the second half, "The Answer" recovers a ball and finds himself facing his idol, Michael Jordan, mandated to defend on him by Phil Jackson (we hear the coach blowing "Michael" to ask him to take care of it ).
Even beaten, Michael Jordan was not far from countering it
Allen Iverson then makes a first dribble to observe the reaction of the rear of the Bulls. Then, on the second, he managed a superb crossover to shift his right hand and shoot. For the story to be perfect, he scores. Although Michael Jordan, beaten on the dribble, made the effort to come back.
"The craziest thing is that he almost countered me, and that just shows you what an incredible defender he was"will thus be remembered a few years after the best rookie of the year 1997.
Still untouchable that season (55 wins in 63 matches at this time), the Bulls will win by four points (104-108) with a small Michael Jordan (23 points at 9/24 in shooting) and a very good Scottie Pippen (31 points, 8 assists, 6 rebounds) against a gala Iverson, author of 37 points at 65% shooting success.