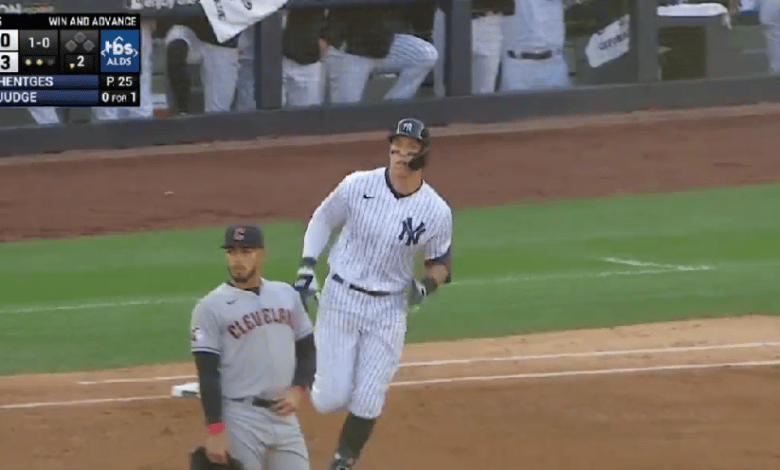 It was this afternoon that game #5 of the division series between the Yankees and the Guardians finally began.
Starting the game 9:00 p.m. later than originally scheduled allowed the Yankees to make last-minute changes and it was Nestor Cortes Jr. who eventually started the game.
Results? The gunner, who was working on the basis of a short rest, was good.
In five innings of work, Cortes Jr. threw five big innings for the Yankees. He gave up just three hits and one earned run.
Jonathan Loaisiga (two innings), Clay Holmes and Wandy Peralta helped the Yankees close the books in that game, which ended 5-1 for the Bombardiers. Gerrit Cole warmed up, but he wasn't used, in the end.
The Yankees therefore recovered from a tough setback Saturday night against Cleveland.
The Yankees will be able to go there with Jameson Taillon, Luis Severino and Gerrit Cole for the continuation of things against the Astros. Because yes, by virtue of this big win, the Yankees are going to the championship series.
But it wasn't just the mound that made the victory possible. Seeing Giancarlo Stanton hit a three-run homer in the first inning helped.
Aaron Civale only pitched a third of an inning. Yeah, Shane Bieber would have been better off having his manager's trust on that one.
Aaron Judge hit his 13th home run in the playoffs and his fourth long pitch in an ultimate game. This one is an MLB playoff record.
Aaron Boone can thank the rain: his club is going to Houston tonight. It won't be easy without rest, but the duel that everyone wanted this season will happen.
It promises for this third duel of its kind in six years. Already the two clubs hate each other…
Reminder: The National Championship Series (Padres vs. Phillies) begins at 8 p.m. tonight.
Josh Naylor was taunted by the crowd…and Gleyber Torres.
Aaron Judge kissed the Yankees logo.
Aaron Hicks was injured during the game. To be continued.