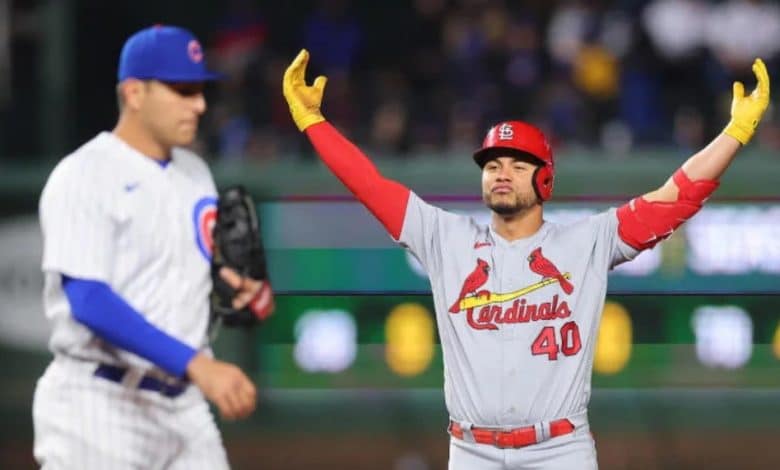 Willson Contreras was a big part of the Cubs' core team that won the World Series in 2016. One of the Majors' best offensive receivers, the Venezuelan provided good ball years for Chicago.
However, last winter, he became a free agent, and he left the club. That said, not only did he not return with the Cubs, but he went to join their eternal rivals when he agreed with the Cardinals.
And last night, it was Contreras' big return to Wrigley Field, this time in his new colors. For the occasion, he was greeted before the game with a mixture of applause and boos.
That said, once the match started, the few applause gave way to even more boos for the former protege from the crowd.
It was to be expected.
Nonetheless, in his first at bat, Contreras hit a hit against Marcus Stroman to get to the trails — and to taunt the crowd. Three batters later, Dylan Carlson allowed him to cross the plate to score the first run of the cards.
Then, Contreras (who was the designated hitter for his team yesterday) took over Carlson's role and started producing runs.
First, in the sixth inning, he hit a plumb ball to center field that ended up on the fence. This allowed Lars Nootbaar to score his team's second point.
Contreras also hit a ground ball that allowed Nootbaar to score another run in the eighth inning. Clearly, he wanted to silence his former supporters.
And if that wasn't enough, he could have had an even more productive evening at work. In the fourth inning, he hit a ball at 117.5 miles per hour (good for fourth in the Majors this season), but Dansby Swanson stole a hit with a beautiful play.
Let's say that more often than not, it ends with a hit.
In the end, therefore, Contreras had the last word, while his Cardinals won 3-1 against his former team. And he will have been involved in each of the three points of his own.
Remember that this match comes after the controversy of his position.
It is a second consecutive victory for the cardswho also beat the Tigers on Sunday. Last night, though, was a big win against a division rival.
Oliver Marmol's squad will play two more games against the Cubs (tonight and tomorrow). With a disastrous start to the season, these two games are already of great importance and she cannot let them slip through her hands.
But if Willson Contreras continues to charge his former team like this, let's just say the Cardinals are in good shape.