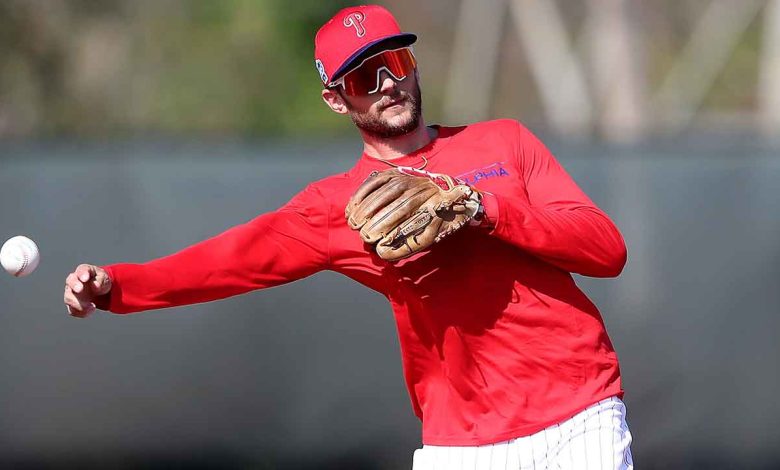 After coming so close to earning top honors, the Philadelphia Phillies struck a blow this offseason, securing one of their most coveted free agents in Trea Turner.
When a newcomer comes with the team that picked him up, there is often a period of adaptation. But not in the case of the shortstop player. Indeed, Turner is acclimatizing very well to his new environment.
To the point that he is already teasing his teammates. Kyle Schwarber certainly wouldn't mind, since he knew Turner was going to fit in nicely in Philadelphia.
When we signed him, I said to myself: This guy will fit in right away. There won't really be any transition time for him. Personality-wise, that's how he is. The transition was smooth.
As soon as the 2022 season ended, you could feel a connection between Turner and the Phillies. The latter aspire to win a championship and wanted to add a piece to their puzzle. They also owned a hole in the number six position, which made Philadelphia the perfect destination.
But for the main interested party, it was not so obvious.
Looking back, it looks like it was super obvious. But going through it, I don't know if it's fair to say. The autonomy market is very different from what people think, myself included. I don't think you can tell who's going to be interested in you, who's going to get the money, all of those factors.
Either way, Turner has finally landed in the City of Brotherly Love and is already part of the family. This will be a definite advantage, since in a division of the caliber of the National League East, the start of the season will be crucial. No time to fuss again trying to get comfortable.
The Blue Jays will have a few regulars on the mound today.
Should Juan Soto put a cross on the World Classic?
Trevor Rosenthal in Detroit.
Who will play in right field while waiting for Fernando Tatis Jr. to return?
Will the Giants be better than in 2021?