Baseball News
The Blue Jays plan to invest $ 200 million to renovate the Rogers Center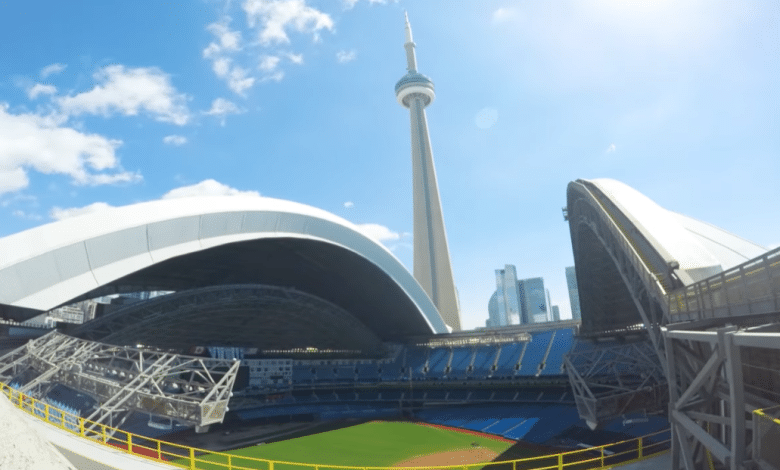 During the year 2021, rumors of a new stadium have emerged for the Blue Jays. After all, the club does not evolve in the newest building on the circuit.
The problem? The Jays are well placed in Toronto and they don't want to move. The plan was possibly to destroy part of the stadium to rebuild in the same place.
But apart from the fact that it is expensive, we are still talking about a project that involves a temporary move because of the work.
Anyway, the Jays will still have to play in the United States next year, if Omicron continues its momentum …
Short. All that to say that it was not the ideal project. Alternative solutions were in the ball club's plans, which appear to align with a more traditional solution.
According to what Shi Davidi reports, Rogers will opt instead for renovations of about $ 200 million on his ball stadium. This could go up to $ 250 million.
The Toronto Blue Jays are finalizing renovation plans for Rogers Centre likely to include a redesign of the lower bowl, according to an industry source, a project aimed at increasing revenues while modernizing the stadium experience, writes @ShiDavidi.https://t.co/ntorEA9J9r

— Sportsnet (@Sportsnet) December 22, 2021
With the refurbished Dunedin training complex and the up-to-date TD Ballpark (also in Dunedin), it was the next logical step.
Renovation of the stadium would be done in the section of the lower bowl, which can be translated into what is on the ground. We can think of the land and the concessions, for example. Will the Jays ultimately go with natural terrain?
For players, playing at a stadium like this might make the experience of playing in Toronto even more interesting, which is not a bad thing.
I can't wait to see if the pandemic will hold back operations.