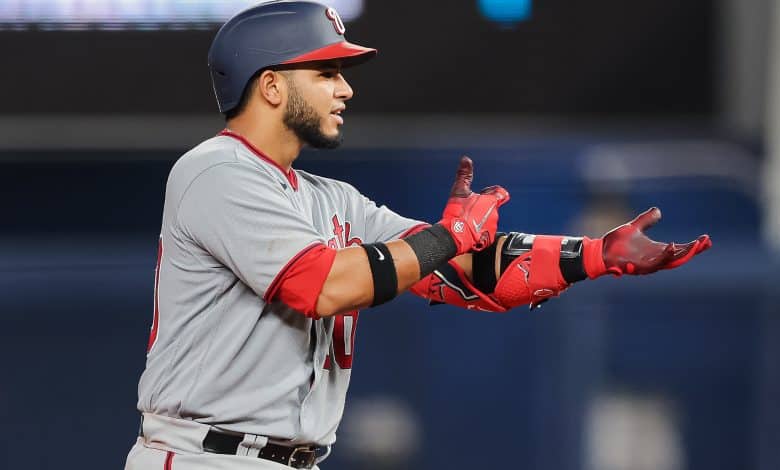 Reconstruction work continues in Washington and receiver Keibert Ruiz is part of the training's plans, he who has just agreed with Nationals management on the parameters of an eight-year contract extension that will earn him 50 million of dollars.
Ruiz, 24, is the one who will have the task of guiding the team's pitchers for the next few years and hope to see the Nationals return to the road of success, they who won the World Series in 2019.
Last year, the young receiver did well offensively, posting a .251 batting average in 433 appearances. It was his first real season in the Majors, having played summarily for the Dodgers and the Nationals since 2020.
Ruiz's 2022 season ended abruptly with an injury in September, but Nationals manager Dave Martinez says Ruiz is clearly identified as his roster's number one receiver.
The team's confidence in the young Venezuelan is high as evidenced by the signing of a new pact and Martinez hopes Ruiz's confidence will continue to grow.
Recall that the latter was part of the transaction that sent Max Scherzer and Trea Turner to Los Angeles in 2021. Ruiz, Josiah Gray, Gerardo Carrillo and Donovan Casey had all taken the direction of Washington as part of this important movement of players.
Despite the team's failures in 2022, Ruiz ranked favorably among the best in his position. In 2022, he struck out 18 stealing runners, giving him second place in the Majors behind JT Realmuto, who struck out 27.
Additionally, he pinned four runners who strayed too far from first base, a Majors-high tied with Elias Díaz (Rockies) and Jose Trevino (Yankees). This stat earned him to share the Nationals record (since 2005) with Brian Schneider, a former Expos.
In 112 games in 2022, Keibert Ruiz has started 98 behind the plate. Hopefully that number will keep growing over time now that he's the one the Nationals will rely on for the next few years.