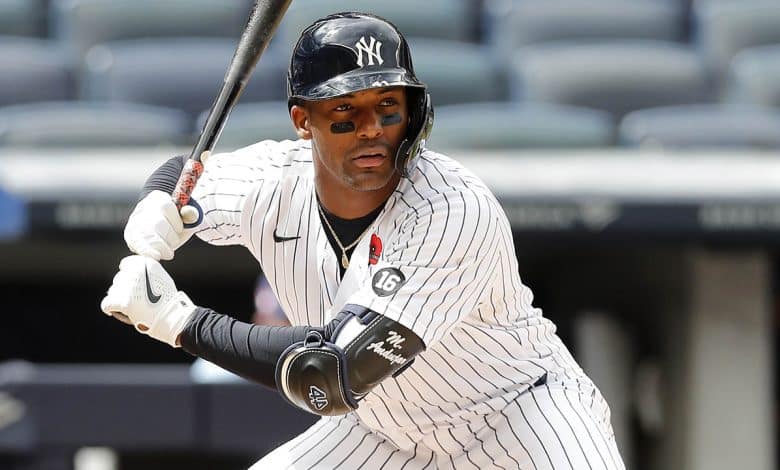 In 2018, a breath of fresh air blew over the New York Yankees. After Aaron Judge's monstrous rookie season a year earlier, it was the turn of two other big prospects for the organization, Gleyber Torres and Miguel Andujar, to take the Bronx by storm in their first year in the show.
Both had finished in the top-3 for Rookie of the Year in the American, an honor eventually won by a certain Shohei Ohtani.
That said, while Torres is still an important element of the New York formation (although he has lost a bit of his luster for a few seasons), Andujar was no longer in the good graces of the organization for a little while. . After missing the 2019 season through injury, he was never able to regain his batting level.
And since his defensive play at third base wasn't breaking anything (he was so bad he was sent to left field), it was difficult to keep him in the lineup.
Andujar had asked for a trade earlier this season, and now he gets his chance to become a free as the air, while the Yankees have designated him for assignment.
In doing so, they were able to make room on the 40-man roster for Zack Britton, who will be back in the team's bullpen tonight after a year of rehabilitation following Tommy John surgery.
And to make room for Britton on the active roster, Wandy Peralta is going on the 15-day injured list, but the team expects to see him back just before the end of the season. .
Between you and me, it smells of the improvised injury to give a rest to a reliever who launched a lot innings this year, but hey.
Going back to Andujar, it's still a shame to see such a promising former young player leave the Yankees in this way. He had electrified the Bronx with his 47 doubles and 27 homers in his rookie year, but unfortunately a combination of factors pushed him out, including his serious shoulder injury.
In short, we will see if a team will give him a chance in the next few days to try to revive him, but Andujar finally gets the chance to take advantage of a change of scenery, he who was no longer in the plans with the Yankees.
It only remains to see what will be his next destination, therefore.