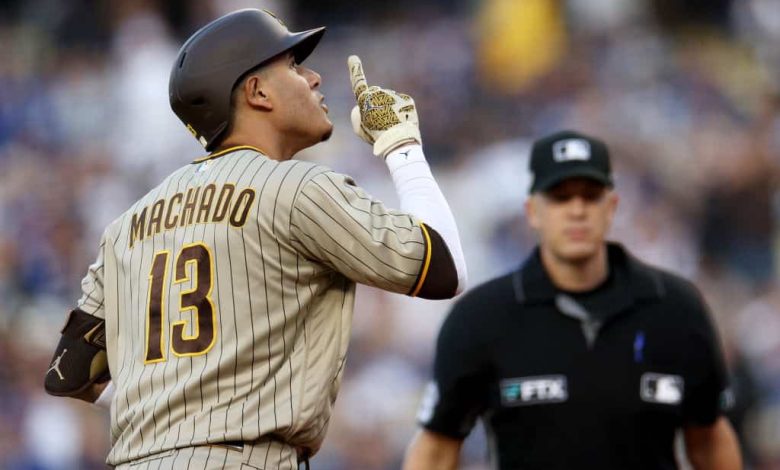 Currently, the Padres are tied 1-1 in their series against the Dodgers. Tonight, for the first time since 2006, they will play a home playoff game in San Diego in front of fans.
Clearly, the franchise has been waiting for this moment for a long time and, in recent years, the GM has not done things halfway to get there.
Obviously, we can talk about the pitchers who have arrived, but the club was betting, in 2022, on three position players to get there.
But as you know…
Fernando Tatis Jr. has decided to take performance-enhancing drugs and he is suspended.
Juan Soto is having trouble adjusting to San Diego.
And the third is Manny Machado. Acquired at a high price (he signed for $ 300 million four years ago), it is he who acts as leader of the formation.
It will be remembered that the former Orioles and Dodgers was not a guy who had a positive ascendancy over the others before, but things have changed.
The third baseman has matured and now he is clearly the leader of his team and the people of the Padres consider themselves lucky to have him.
In fact, everyone follows him.
He's the one who makes everyone feel comfortable when they walk into the Padres locker room. This is what makes it easy to follow him on the field since he plays even when he is not at 100% of his form.
Bob Melvin, in any case, knows that Machado is important to his club. He is happy to have it.
He gives everything he has and the Padres consider themselves lucky to be able to count on a player of this caliber … and with good reason.
Can he help the Padres take out the Dodgers, though?
Rob Thomson, manager of the Phillies, makes his place in Philadelphia.
So sad. A 20-year-old Phillies prospect has died of cancer.
Aaron Judge's next contract is the talk of the town.